Home Decorating Tips -
Plan Ahead To Guarantee Your Success
_________________________________________
__________________________________________
Do you know why is it important for you to remember these home decorating tips when planning your decorating projects?...
Well, have you ever heard the saying, "look before you leap?" They're just four simple words that mean prepare yourself before you begin the task at hand.
Undertaking a home decorating project is no exception to this rule. Careful planning and a clear vision of where you're going are needed to ensure that your decorating dreams will come true.
By employing the decorating tips and techniques discussed below, you'll be able to avoid the expensive mistakes that lead to confusion, indecision...and ultimately frustration.
Home Decorating Tip #1 - Define Your Scope & Goals

I know that you'd love to skip these decorating tips and begin decorating immediately, right? Well, I would encourage you to first print these home decorating tips for reference and then grab a pen and paper and jot down exactly what you want to accomplish.
This is done through a process known as scope and goal setting. It will add an amazing amount of clarity to your decision making once you get into implementing your interior decorating ideas.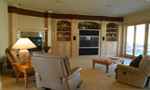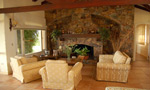 Your scope is a brief statement describing your project.
For example, you might write, "Decorate the living room in a Traditional Style by December 31". Go ahead, write down your scope. I'll wait…
Next, list your goals beneath your scope. You may be thinking that the goal is simply, "To make the room look as beautiful as possible". But you really should dig a level deeper.
Put answers to questions such as...
Will the project increase the value of your home? Is the project tied to an overall home improvement plan? Are you giving the room a partial or complete makeover? Are you redoing the room because you want it to handle additional activities? Are you creating your dream room or is this just a quick fix?
I could go on and on, but I think get the idea. Take your time and really make an effort to determine why you're doing the home decorating project and what you hope to achieve. It's critical that you complete this step before moving to the other home decorating tips.
Home Decorating Tip #2 - Define Your Budget

Let's keep the momentum going. By the way, did you print these decorating tips for your files? Just checking :-)
Next, you should establish a budget for your project. How much will it cost to turn your home interior decorating ideas into reality? To create your budget, list the cost of materials, services, building permits, etc., in as much detail as possible.
Use the merchants mentioned on this web site to get a feel for the prices of furniture and furnishings. Contact craftsmen in your area for the cost of services such as painting, plumbing, and electrical work. I've created a Home Interior Design - Budget Worksheet to help you.
Once you arrive at your total, add 10%-20% as a contingency to cover unexpected costs.
Considering your scope and goals…
Can you live with the final dollar amount? If not, you'll have to decide what changes to make.
As you progress in your decorating project, it is important that you frequently compare your budget against your actual spending. It would not be unusual for your goals to change in mid-stream, but this way there won't be any financial surprises.
Home Decorating Tip #3 - Find Your Decorating Style

I could write pages and pages about all the historic and modern decorating styles and what makes one different from another. But what ultimately matters is that you seek out and learn more about your own decorating attitude. Why?
Because knowing your decorating attitude will make it easier to identify furniture and furnishing that will fit well together and will work for you.
In keeping with the intent of this web site to provide concise information, I've devised a quick and fun quiz to help you identify your decorating style. Is it Traditional, Casual, Contemporary, or Eclectic? Home Decorating Style Quiz


Traditional - Your furniture and furnishing are comforting and classic. There may be a mix of old world styles such as Queen Anne, 18th Century Chippendale, Hepplewhite, and Sheraton. Your colors are typically soft and you are undoubtedly a lover of antiques.

This basic list of Traditional Decorating ideas should help to enhance your understanding of this style.

Casual - You prefer your home to be simple and warm. Your upholstery is soft and round, and fabrics are usually in earthy or neutral colors.

Seating is arranged informally and everyone immediately feels as though they can plop down anywhere. Accessories are lighthearted and whimsical.

Review this list of ideas to put you in a Casual Decorating mindset.

Contemporary - You prefer a sleek, sophisticated design with clean lines. Accessories are minimal, but what you have could be described as elegant simplicity. Some may consider your home to be cold and stark. There may be lots of glass and stainless steel.

Your choice in colors may range from black and white to bold and vivid.

Click on this link to Contemporary Decorating ideas to jumpstart your thinking.

Eclectic - Your style is a mix of two or more of the above styles. You occasionally rebel against conventional design rules. I would also describe my own decorating attitude as Eclectic.

Take a peek at the Eclectic Decorating in my home for ideas.


Home Decorating Tip #4 - Lay Out Your Floor Plan
You're developing quite a project plan aren't you? Can you see the big picture starting to come together? Great! I'm glad these home decorating tips are helping.
The next step is to lay out the floor plan for each area to be decorated. Using a pencil and graph paper, make a drawing that represents the length and width of the design space. Be sure to indicate the location of windows, doors, and other architectural elements.
Make several copies of the floor plan because later you'll use them to help determine the best way to arrange your furniture. You'll actually draw little shapes to represent your chairs, sofa, tables, bed, etc.
Home Decorating Tip #5 - Identify Your Focal Points

A focal point gives the eye an initial point of interest so that it can begin to take in the interior landscape of a room with ease. It can be an eye-catching architectural element such as a fireplace, large bay windows, or built-in book shelves.
However, if your room is architecturally challenged, you'll have to create a focal point. This isn't difficult to do. An imposing piece of furniture, such as an armoire or wall unit, can fill the bill. Or perhaps you have a large painting or decorative rug that might work.
The key to remember is that you MUST identify or create a strong focal point in each room that you decorate. This will be your starting point for arranging your furniture.
It will also make your decorating effort easier because you will arrange your conversation area so that the eye will flow naturally from it to the focal point.
Of all the home decorating tips discussed above, this is the one I hope you never forget.
Home Decorating Tip #6 - Use Your Imagination

As you already know, decorating is part art. Therefore, your imagination and creativity are essential to bringing life to your decorating project. This home decorating tip is probably no big surprise.
However, when ideas come to you, don't dismiss them as being silly or outrageous...Instead, jot them down.
Even if you don't use one idea in totality, you may find yourself taking elements from several ideas and creating something unique.
Finally, if you lay out your plan and still believe that you need an interior decorator or interior designer to assist you in specific areas, click on this link for tips on How To Select An Interior Decorator.

I hope these home decorating tips have been helpful.

And if you'd like to explore some excellent books on planning your home decorating projects, please check out the recommended resource links listed below.
Need more Home Interior Decorating Tips? - Books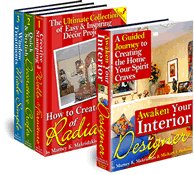 Lots of original home decorating tips and more in... The Awaken Your interior Designer! Collection
- Brought to you by Home Decorating Made Easy, this first of its kind collection of interactive guidebooks is guaranteed to help you decorate any room in your home faster and easier than ever before. Create a beautiful living room that matches your families lifestyle without spending lots of money. Filled with lots home decorating tips and color photos of "REAL" homes.



I hope this information has been helpful. Click here for more great ideas to help you with your home decorating!