French Country Decorating Can Bring a Natural Look into Your Home
_________________________________________
__________________________________________
French country decorating is becoming very popular in homes. This style is pretty much what you'd envision. It's country style with an added a touch of French flair?
It is easy to turn a room in your house into a French farmhouse room. Or you can give it a more elegant style and turn it into a French chateau room.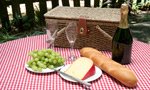 Either way, the basic French country decor is the same and can be achieved using a few tips.
Accent your room with vine patterns. French country decorating brings in the patterns found in the outdoors of the region. One of these patterns replicates the beautiful vines in the area.

Some French country kitchens use vines as subtle wall patterns, not necessarily in the actual green color of true vines. You can achieve this look by using a light color for the base of the wall, then using a stencil to create the vine pattern in a slightly darker shade of the same color. In any room, bring in actual vine plants as decorative additions.

Bring the flowers of the outdoors inside your room. In addition to vines, French country decorating focuses on blooming flowers as well. This can be in the form of patterns on fabrics as well as sprinkling your room with actual potted flowers.

Lavender makes a wonderful addition to French country decorating. Flowering herbs also bring in a rich variety of the French country style.

Use earth colors. Sunflower yellow, lavender, and deep reds are just a few of the colors used in French country decorating.

Olive and grassy greens, browns, and soft sky blues also accentuate the country style, especially when used in fabrics. Pillows, blankets, and curtains benefit by containing these rich natural colors.

Texture your walls. Plaster and stucco are indicative of French country decorating. These materials give style and texture to the interior of your room.

They bring in the natural, rustic look of the French country and show off a touch of the simplicity of the style.

Any natural materials you can use will only accentuate the French country decorating look of your room.

Talking about natural materials brings us to the furniture of your room. French country decorating uses a lot of wooden furniture in its natural colors. This furniture style can range from natural wooden planks to carved wooden pieces, depending on the French country style you choose.

The farmhouse style uses more simplistic furniture while the chateau style may have more expensive pieces. Either way, the type of furniture used in French country decorating often looks like local artisans of the region built it.

Add a few accents of iron. Especially if you want to add a touch of elegance to your French country room, use a few pieces of iron decorations.

This can be in the form of a small chandelier, or a few candleholders in your room. Iron plant holders attached to the wall also add a wonderful touch to your room.
Using these few simple tips, you can turn any room in your house into a French country living space. The simplistic style of French country decorating makes it a warm welcome to your home.
For a few more tips for achieving the French country decorating style on a budget, watch this video.
French Country Decorating On A Budget
And if you'd like to check out more resources related to this topic, visit the links below. Note that the Shabby Chic style is a close cousin to French Country.
Click here to go BACK to the home page for more great home decorating ideas! Share these French country decorating ideas with others by click on the social buttons below.