Country Decorating - More Than Ruffles
_______________________________________________
________________________________________________
To create a décor that's warm and inviting, you can't go wrong with country decorating. Using this style will give your home an atmosphere that extends a genuine welcome and serves as a continual source of warmth and comfort.
Let's determine exactly what defines this decorating style. It is often mistaken as any décor that uses ruffled curtains and is prevalent in rural settings, which is not true at all.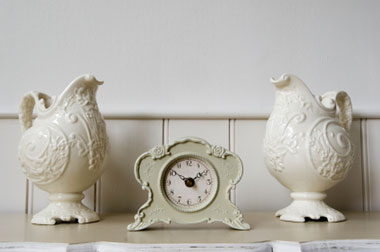 The components of country decorating are blended together weaving an environment of nurturing geniality and cordial hospitality. The impression created is experienced by the inhabitants of the home as well as by their guests.
Events of recent years have lead increased numbers of people to embrace country decorating styles. This is true perhaps as the result of personal realizations and a desire to embrace life fully but from the perspective that less is far more than what is actually required for such personal fulfillment.
A significant fact about experiencing life at its fullest is that it is just as important to embrace and appreciate that which is fundamental, like country decorating as to celebrate that which is grand.
Achieving this particular home decor can be a rewarding experience in itself. In country decorating we get to de-clutter not only our houses but our spirits as well... with an across-the-board sweep of the excess.
For years many of us have accumulated so many personal possessions that they have actually become burdensome rather than comforting.
Before beginning your decorating project, you need to to dispose of excess items. Naturally, you can sell them. You probably have friends who would buy your things.
Then there's always the online auction route. If you don't truly need the money, consider donating to charity. It will do improve your perspective.
After you've accomplished this major minimization, you may feel some sense of loss. Begin your country decorating by taking an entire day to leisurely find the items to include in your new décor.
Leisurely does not mean lazily or uninterested, it simply means that you're taking the time to let pieces you'll be taking home speak to you. You have to listen closely though because country decorating speaks its own sweetly unique language.
Visit off-the-beaten path establishments. You'll find more treasures there than in any traditional type of store.
Be careful not to overspend on country decorating items, remember businesses are in business to make money. Unscrupulous individuals may try to pass off cheap imports as genuine finds. Take along a friend for assistance if you don't trust your judgment in this area. You may also want to have a list to guide you as well.
Country Decorating Shopping List For The Kitchen
baskets - choose natural materials. Hang or arrange in groups.
wooden bowls - choose lighter colors. These will hold fruit and vegetables that don't require refrigeration.
wooden kitchen utensils - light colors here too. Attach small bouquets of dried flowers and herbs to hang on walls.
galvanized tin pots, tubs and buckets - select older ones. Group or hang to display.
old jars, jugs and assorted glass - vintage not required. An old preserves jar with etching or a local dairy milk bottle is a true find.
worn cookbooks - search for those not mass-produced. Many women's church groups and other clubs published these yearly.
As you're finding country decorating items for your kitchen, you'll find things for other rooms also. Call it a good day if any of these happen to be among them.
- Country decorating treasures

- Wooden pie safe with screen-wire door

- Burlap cotton sheets - for making curtains

- Glass insulators from old utility poles

- Quilts made by hand

- Flat tobacco baskets - for hanging on a wall
Click here to go back to the home page for more great home decorating ideas!
Do you know others who enjoy the country decorating style? If so, scroll to the end of this page and share this article using the Facebook and Twitter buttons.