Tropical Decor - Four Basic Components
The tropical decor theme has become an increasingly popular trend recently. It's an incredible way to transform even the stuffiest of rooms into an inviting, light-and-airy paradise.
One of the premium features of tropical theme is that it works in any room. Whether you're breaking away from a traditional den re-energizing your office, or bringing that drab guestroom to life, you can't go wrong with a tropical theme.
And as you'll see in the image and video below, there isn't just one tropical look. Much will depend on your personality, lifestyle, and preferences.
Basic Ideas About Tropical Decor And Decorating
Illumination in tropical themes.
Make the most of the natural lighting within the room by adding mirrors. Scour thrift shops for old, metal-framed mirrors with a weathered look. Oval-shaped wicker-framed mirrors can generally be had for a couple of dollars and somehow always are an easy find.
Groupings of mirrors can create an image of light when arranged tastefully in tropical themes.
If your room has little natural light, think twice before investing in curtains or drapes. By using blinds either with or without sheers, you'll boost the room's lightness factor dramatically.
Colors for tropical decor plans.
There are varying styles of tropical interior decorating. Perhaps the picture that most often comes to mind incorporates white, beiges and browns, mixed with practical shades of green and other splashes of bright colors. This color scheme will give you a very neutral decor. However, there is a wide spectrum of colors from which to choose.
As you can see in the image below, decorating in a tropical theme doesn't mean the look has be super casual. This room is lush and inviting with it's dark woods and stunning architecture.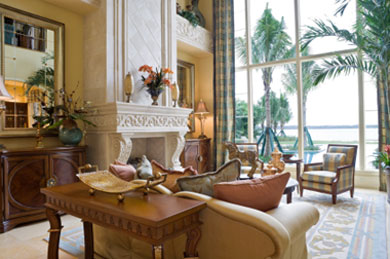 The Balinese tropical decorating theme boasts deeper colors. You'll often see intense shades of burgundy and yellow featured prominently. In fact, rich shades of golden-bronze are quite appropriately included in this color palette.
On the lighter side of decorating with a tropical theme is the Caribbean color scheme. If you love passionate corals and ocean shades of blue, then you'll be thrilled with the final transformation of your tropical decorating project. Shades of peach and aqua mixed with banana yellow also create a tropical Caribbean air.
Furniture for your tropical theme projects.
A natural fit for furnishing your tropical room is wood. Excellent choices include hardwoods such as teak and rosewood. Other perfect made-by-nature selections such as rattan, cane or wicker-type furniture work just as well. You'll also find furniture made from these materials is typically far less expensive than those made from hardwoods for tropical decorating.
If you have your heart set on hardwood furniture but don't have a hardwood budget, here's a helpful hint:
For affordable tropical theme furniture visit secondhand stores and thrift shops located in areas close to military bases. Quite often you'll find inexpensive tropical furniture is practically brand new. Military personnel often decide to sell furniture that has been purchased overseas rather than continue to pay for storage or moving. You may actually be able to purchase tropical furnishings that came directly from a faraway island.
Metal-framed furniture is another basic tropical decor idea for furnishing a room with a tropical theme. Whitewashing gives it a very earthy appearance to compliment the other elements of the room.
Fabrics in tropical decor schemes.
Tropical prints have come a long way since the days when your dad wore his tropical shirt on Saturday's. Even mass-marketing discount chains are featuring fabrics with palm trees and ferns. Look for fabrics that have tropical fruits such as coconuts, mangoes, papayas, pineapples to add tropical decorating flair.
Print fabrics with brilliant flowers such as hibiscus, orchids and other exotic flowers create an immediate tropical effect. Making or buying floral print slipcovers for tropical decorating is a very creative and effective way to stretch your budget.
Many tropical decorating themes incorporate materials with animal prints. The various shades of brown from monkeys mix well with yellow-golden lions and giraffes. Black-and-white striped zebras add a sense of geometrics to the mix as well.
If you find the animal prints too masculine or monotone for your tropical decor tastes, look for fabrics with tropical birds. The fiery reds, brilliant blues and dazzling chartreuses will make a bold statement throughout your decor.
In the above picture, you saw the more formal side of tropical decorating. Now check out some tropical decorating ideas that are far more casual, but just as inviting.
Beach And Tropical Decor Ideas - Video


Click here to go back to the home page for more great home decorating ideas! To share these tropical decor ideas with others, click on the Facebook and Twitter buttons below.