Tuscan decorating - A Touch of Old World Italy
_________________________________________
__________________________________________
Would you like a few Tuscan decorating ideas to bring a bit of Italy into your home? If so, keep read for some great tips and a helpful video at the end.
The simplicity of the Tuscan style combined with its subtle elegance have made this decorating style appealing to many homeowners.
The central theme of Tuscan decorating is bringing the natural feeling of the outside indoors. This country Italian design method is easily recreated using an earthy palette and some distinct materials.
Tuscan Decorating Elements
Tuscan design is probably best known for its color scheme. Terra cotta is widely used, along with any of the other earthy colors. Deep reds, browns, and yellows are mixed with lighter shades of blues, greens, and oranges. Just about any color can be made into a natural shade for use in Tuscan decorating.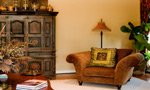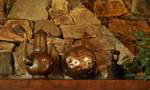 The use of various textures is also at the heart of the Tuscan style. Floors are a great example of this.
Stone and tile are two common flooring elements in Tuscan decorating.
Stone patios are another beautiful element of the simple style, and bringing this look inside is accomplished using the stone and tile flooring. Textured walls are another example of Tuscan decorating. Plaster is often used to create this texture on the walls.
Large exposed wooden beams can also add to natural simplicity of the framework in a room.
Stone, tile, and natural wood are used in other elements of Tuscan decorating. Furniture is a classic example of this. Tables are often made out of stone or tile mosaics. They can also be made from large beams such as those used in the framework of Tuscan villas.
Smaller furniture in Tuscan decor is simple in style, usually wood, and aged in appearance. Antiques are best for this aged look, but there are staining techniques available that also recreate this rustic style.
Other important aspects of Tuscan decorating are the room accessories. Italy is known for its ceramics, and no Tuscan scheme would be complete without a sampling of this material.
There are many distributors of Italian style ceramic pieces, but if you can get hold of some hand made pieces they will bring an added touch of style into your room. Another defining part of Italy is its wine.
Bringing a touch of this cultural heritage into your Tuscan decorating can be as simple as some small display of wines and wine glasses or as elegant as a hand made wine rack set into a stone base.
Some other elements of Tuscan decorating may seem small, but they add just the right finishing touches to authenticate the style. Silver frames and silver candlesticks are common elements of Tuscan decorating in the living areas, and copper pots are regular staples in the kitchen.
Smaller elements of decorating also include food based decorations such as large glass canisters of olives and displays of grape leaves.
Greenery may be the last little bit of the important finishing touch to a room. Vines are especially indicative of the Tuscan decorating style, but any added bit of the outdoors brought indoors through the use of plants and flowers is a welcome addition to a Tuscan home.
__________________________________________
___________________________________________
Tuscan Decorating Ideas - Video
If you'd like more ideas and inspiration for creating your Tuscan dream, check out these additional resources.
More Interior Decorating Ideas - Recommended Reading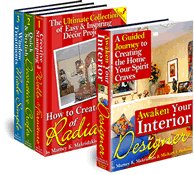 (1) The Awaken Your Interior Designer! Collection Brought to you by Home Decorating Made Easy, this first of its kind collection of interactive guidebooks is guaranteed to help you decorate any room in your home faster and easier than ever before. You'll find lots of interior decorating ideas to create unique spaces that fit your family's lifestyle without spending lots of money.

BACK to the home page for more great home decorating ideas. And to share these Tuscan decorating ideas, please click on the Facebook and Twitter buttons below.