Shabby Chic Decor - Creating The Look
_________________________________________
__________________________________________
Shabby chic decor creates an atmosphere of comfort and old-world charm. Walking into a home stuffed with shabby chic items creates instant feelings of deja vu.
You've been here before or, at least, a place like it--shabby chic conjures images of afternoons spent with your grandparents, the scent of fresh flowers, the nights passed with deep sleeps from plush comforters. Shabby chic creates a feeling of remembered comfort.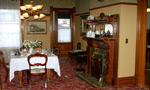 It should not be considered too "old", however. Shabby chic decor may remind us of time spent with our elders but it is certainly not limited to them.
Comfort is universal, and the want to bring it into your home is understandable. That's what shabby chic decor does--it is not just for the older set; it is for anyone looking to create a plush and relaxing environment.
Shabby Chic Decor Elements
So, how do you create that environment? How do you make a room into something more? Shabby chic decor is actually quite easy to use because it can be found anywhere and can be most anything:
Distressed Shouldn't Always Be Saved: peeling paint and slightly rusted metal should be left alone. You do not need to make it perfect. Found an old chair with the paint chipped or damaged? Leave it alone.
Shabby chic decor is not about polished perfection; it's about using the old in new ways. That chair, while perhaps too old to sit in, could be a perfect place to set a vase of flowers. Just stick it in the corner and let its unfinished look add to the atmosphere.
Redoing Instead of Rebuying: sometimes, you will feel compelled to "save" a piece of furniture. That's fine and another aspect of shabby chic. Instead of throwing out your old pieces for new ones, you can redo them. Shabby chic is composed of the patched and repatched elements; they work here.
Colors Everywhere: shabby chic is all about colors, just not bright colors. You want to achieve this look through soft tones. No bright reds or jarring blues. Your decor should be simple and understated. Whether you are looking to paint your walls or an old table, you should follow this rule.
Filling The Corners: no room is complete without accessories. You need more on the walls than paint, and the corners are empty without something standing in to fill them. Shabby chic decor extends to the accessories.
You should chose things that add to the atmosphere of coziness (candles, teapots, mirrors, freshly cut flowers, etc.). Again, these should follow the same rules as your furniture--distressed is fine and they should be muted in color.
You do not want to ruin the pastel effect of the room with a jarring piece of gold hanging from the wall. Keep it uniformed in its lightness.
Shabby chic decor will create an air of comfort and classic appeal. Anyone can appreciate rooms done in this style, and everyone will have a hard time resisting plopping down on a sofa and soaking it in.
________________________________________
________________________________________
More Home Decorating Ideas - Recommended Reading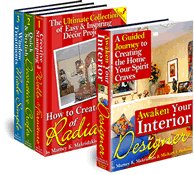 (1) The Awaken Your Interior Designer! Collection - Brought to you by Home Decorating Made Easy, this first of its kind collection of interactive guidebooks is filled with lots of interior decorating ideas. Create the warm, inviting bedroom of your dreams easier and faster than ever before without spending lots of money.



Click here for more great home decorating ideas! And to share these shabby chic decor ideas, please use the social buttons below.