Create Your Own Little Tuscany with Italian Decor
_______________________________________
_______________________________________
If you would like to make Italian decor the theme of one or more of the rooms in your home, you will find that there is plenty of furniture and accessories to suit your taste and thematic ideas.
For instance, depending on the design you are interested in, you can use Italian decor to create a classic, modern contemporary, renaissance or Tuscan decorating theme.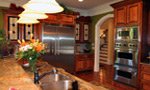 When it comes to transforming a room using Italian decor your focus needs to be on furniture, accessories and color. We'll take a close look at each of these elements starting with furniture.
Italian Decor Elements
Furniture – The first aspect you need to know about Italian styled furniture is most pieces are very large and heavy. Therefore, it's a good idea to designate one of the larger rooms in your home for this decor.
Despite the size, the two most popular types of furniture from Italy are renaissance and Tuscan. The renaissance style merges Roman and Gothic design, and features extremely detailed wood carvings of birds, fruit or grotesque human or animal figures.
Tuscan styled furniture is the most popular furniture from Italy and is divided into two Italian decor styles: elegant and traditional.
The elegant pieces of furniture come from Florence and are fancier looking then the traditional country look. Tuscan furniture is made from different types of woods such as chestnut, fir or cypress.
Accessories – Although the right furniture pieces are important, Italian furniture requires the right accents and accessories to really bring the Italian theme to life.
Raw iron that is unpolished including copper, iron, pewter and tin are the perfect choice for tables (IE end tables, bedside tables, coffee tables, etc.) chairs, plant stands, etc. Granite, marble and limestone tabletops are also a wonderful addition.
Other great accessories for Italian decor include but are not limited to: Throw pillows, rustic-themed blankets, colorful tapestries, paintings, bowl of color ceramic or real fruit, antique area rugs, leafy plants, flowers, and wrought iron candle stands and wall sconces.
In addition, another fantastic look is to build or install open cupboards to show off linens, dishes, or copper pots. If you already have cupboards in the room that feature doors, remove the doors to create the desired look.
Color – the colors you use for Italian decor should be very rich and rustic. Combine regal reds with a warm terracotta and cool shades of mild green and Mediterranean blue. Use the red in accents such as the paintings, tapestries, pillows and area rugs.
Terracotta will look excellent on the floor or the walls. Green can be accented in plants, candles and throw blankets. Mediterranean blue can be accented in pillows, candles, rugs, etc.
If you find you are having difficulty creating the look you want, find pictures of Tuscany, Renaissance Italy, or whatever Italian style you are interested in to generate ideas.
Just remember, your goal when using Italian decor is to bring all the elements together to give your home or room a peaceful, relaxed, comfortable and lived-in environment. The overall feeling of this decor should be warm, friendly and inviting.
____________________________________________
___________________________________________
More Home Decorating Ideas - Recommended Reading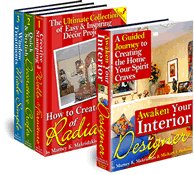 (1) The Awaken Your Interior Designer! Collection - Brought to you by Home Decorating Made Easy, this first of its kind collection of interactive guidebooks is guaranteed to help you decorate any room in your home faster and easier than ever before. You'll find lots of interior decorating ideas to create unique spaces that fit your family's lifestyle without spending lots of money.