Creating Original Tuscan Interiors
The warmth of tuscan interiors is genuine and inviting. This particular style of décor literally brings the outdoors into a home to be experienced by those who dwell there as well as all who visit it.
Breathtaking Italian country sides are accentuated in tuscan interiors by with an approximating mix of ideas in natural décor. The basic tone or feel of this decorating style is enhanced creatively by choosing accessories made of substances given us by the earth rather than common manmade materials often used in other décors.
The true flavor in tuscan interiors is a recognizable celebration of man's coexistence with nature. It is one of equalizing harmony that demonstrates both an appreciation of the earth as well as the adaptability of both man and nature to serve each other well.
An overwhelming abundance of acrylics, vinyl and other manmade materials diminishes the genuine feel in tuscan interiors rendering them cheap imitations only. Artificial elements that merely mimic this theme actually mock the entire idea behind the tuscan interior design.
Those who choose tuscan interiors typically are people who have embraced a concept for living rather than simply preferring a particular look. It is the authenticity of the style to which they are drawn much more so than to its cosmetic appeal.
There are countless options in manmade materials that can be used and often are used in tuscan interiors everyday.
While they may seemingly create an appropriate theme upon first glance, if you look closely, you will notice that the true feel is neither genuine nor very lasting.
To ensure that your choice in tuscan interiors is authentic, consider some of the natural materials that are quite often overlooked. They further define this decorating style and enhance it considerably, creating an air that is genuine.
Stand-alone metals for decorating tuscan interiors in style
Iron ore is one of nature's finest gifts to this décor. Craftsmen work this material either by casting or forging it, which alters its molecules.
Cast iron has been melted to a consistency that allows it to be poured into molds, such as in pots used either for cooking or decorating purposes alone. Forged iron is shaped by either man or machine to make gates, rails or trellises that can serve a useful purpose or be used strictly for decoration.
Copper and tin are also natural metals that enhance and can be used in tuscan design interiors to create a true theme.
Choose pieces that are rustic and unpolished rather than shiny, polished pieces. They reflect an appreciation of age, symbolizing that old does not mean undesirable but instead is deserving and honorable.
Natural Stones for significance in tuscan interiors
While using manmade stone look-a-like products may seem trendy and in style right now, using them doesn't always guarantee the desired end result. It is often difficult for a manmade product to truly replicate what nature has long ago perfected.
For accessorizing tuscan designs use decorative pieces that incorporate natural stones such as quartz and amethyst. While most amethyst stones are generally purple, the range of colors can vary from pale lavenders to deep, bold hues.
Quartz is found naturally in various colors with some of the most impressive hues including deep pinks.
The green composition of natural malachite, which is a mineral that is a basic carbonate of copper, makes it perfect as a representation of the earth itself. This stone can be used effectively in tuscan design interiors to create a very dramatic statement.
Another impressive stone for accessorizing tuscan interiors is sodalite. This mineral is characteristically transparent to translucent and contains a silicate of sodium and aluminum with chlorine also. It has a glassy luster which results from being formed as the result of volcanic activity.
And visit this link for tips about Tuscan wall decor
More Home Decorating Ideas - Recommended Reading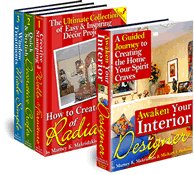 (1) *NEW* The Awaken Your Interior Designer! CollectionBrought to you by Home Decorating Made Easy, this first of its kind collection of interactive guidebooks is guaranteed to help you decorate any room in your home faster and easier than ever before. You'll find lots of interior decorating ideas to create unique spaces that fit your family's lifestyle without spending lots of money.

I hope these ideas about tuscan interiors have been helpful. Click here to go back to the home page for more great home decorating ideas!



---