Shabby Chic Decorating - Time Get Comfortable
_____________________________________
_____________________________________
There are different options for you to consider if shabby chic decorating is the look you are interested in for the room(s) of your home.
This is a very interesting decorating theme simply because it combines the shabby - what is worn, and well used - with the chic - what is stylish and fashionable.
Therefore, in order to capture the shabby chic decorating look perfectly, you need to think about using decor that is worn out or faded, but in designs that are considered modern and trendy.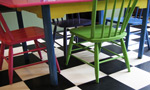 One of the best aspects of shabby chic decorating is the fact that it can be accomplished on a very tight budget. This is a theme that highly depends on your own personal creative decorating designs and choices. In addition, this fantastic room design is made to look "lived in", which means that it is warm, inviting and comfortable place for you to relax.
Shabby Chic Decorating Tips
The following are some shabby chic decorating tips and hints to help you create the perfect look for the room(s) you wish to fashion in this design:
White or Light Colors - When it comes to shabby chic decorating for the room walls, it is a good idea that you paint the walls one simple, fresh color such as white, or a light pink or green. The reason is because you don't want patterns and colors on the walls clashing with the other colors and designs on the upholstery.
However, it is a good idea to make the effort of using upholstery that carries a small amount of the wall color in it. This will help to accent the rest of the room with the walls.
Faded Upholstery Patterns and Slipcovers - The beauty of shabby chic decorating in a room is that there is no reason why you should have to purchase new furniture pieces.
For instance, if you have couches or cushioned chairs, all you need to do is add a slipcover, which you can make yourself by taking old faded fabrics with just about any design (for example, flowers or stripes), or a plain color (white, pinks, greens, blues, yellows, etc.). The beauty of using a slipcover for your couches is that you can always use more than one slipcover, and change them to match with each passing season.
Fresh Looking Furniture - When it comes to other furniture pieces such as tables, nightstands, dressers, and so on, a great way to dress them up to go along with your shabby chic decorating theme is to paint them white.
White is the best choice, simply because the furniture will not clash with the other colorful and mismatched items you have placed in the room.
Mismatched Accessories - When selecting shabby chic decorating items, you will want to look for those decorative pieces that also appeared worn, old and imperfect. For instance a chipped vase that holds fresh flowers, various candles with different sized and shaped candle holders, and so on.
As you can see creating a room with a shabby chic decorating style is not difficult and can be a lot of fun. Just remember, think old and comfortable when designing your room. Your goal is to make it a cheerful little sanctuary that is welcoming and charming.
_______________________________________
_______________________________________
More Home Decorating Ideas - Recommended Reading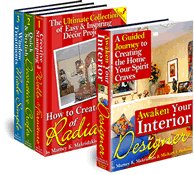 (1) The Awaken Your Interior Designer! CollectionBrought to you by Home Decorating Made Easy, this first of its kind collection of interactive guidebooks is guaranteed to help you decorate any room in your home faster and easier than ever before. You'll find lots of interior decorating ideas to create unique spaces that fit your family's lifestyle without spending lots of money.

Click here to go back to the home page for more great home decorating ideas! And to share these shabby chic decorating tips with others, click on the Facebook and Twitter buttons below.