Tips To Help You Select The Right Decor For Your Casual Decorating Style
______________________________________________
_______________________________________________
A casual decorating style is driven mostly by a more casual attitude about arranging furniture and furnishings when compared to the other decorating styles.
With casual decorating, the number one goal is to create a comfortable space that invites everyone to take off their shoes and stay a while. However, this is not to say that your décor should invite clutter or break every decorating rule in the book. The casual sunroom below invites you to hang out for a while, read a newspaper, and enjoy a nice beverage while taking in the view.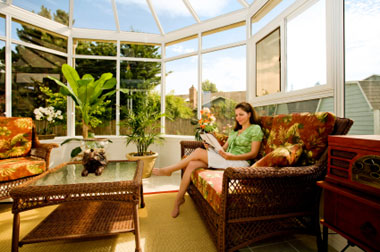 The list below is designed to help jumpstart your thinking for casual decorating ideas. In this way, you will know which type of furniture and furnishing will work best together and help you achieve the look you want. This list is by no means all inclusive.
Casual Decorating Style Elements
Walls And Windows
Faux painting (also check out the Ralph Lauren selections such as Suede and Denim)
Neutral colors
Bright colors can be used sparingly
Use wall paper that complements your furniture (nothing too fussy though)
Use coarse or cotton fabrics and avoid the shiny, fancy stuff such as silk and taffeta
Sheer or lightweight curtains or blinds
Lighting
Candlestick shaped table lamps
Try a table lamp with an artichoke or pineapple shaped base
A wire-wrapped or iron up-light chandelier
Furniture
Ottoman
Wicker chairs
Pine wood furniture
Over stuffed sofas and chairs
Armoire for your television
Wooden coffee table (nothing too fancy)
Furnishings/Accessories
Berber carpet
Straw baskets atop kitchen cabinets and on ledges
Plants and trees (try the maintenance-free silk versions)
Folk art or fun pieces that match your personality
Prints and pictures are intermixed in a variety of frames
Table cloth on your dining table
I think accessorizing your home is where the real fun begins. Through these items, you will tell the world something about YOU. That's why you'll want to add items that reflect your personality. Finally, I recommend that you pay All Posters a visit for your art work.
For more tips and ideas to help create a casual theme in your home, check out the following links:
Click here for more great ideas to help you with your
home decorating!
And to share this information about achieving the casual decorating style, use the Facebook and Twitter buttons below.