Victorian Interiors - Tips for Creating Beautiful Rooms
_________________________________________
__________________________________________
If you have found that Victorian interiors really captures your attention, and you would enjoy decorating your room(s) in this style, but feel that you can't because you don't think you can afford it, there are ways you can make your dream come true.
All you need to do is some extra browsing to find the right deals, as well as think creatively.
To begin with, you should look at pictures of different Victorian interiors, as well as samples of items, and other decorations that were popular during the time period that occurred in 19th century England.
The images, like the one below, will help you to know what to look for while you are browsing for deals online, or in thrift stores.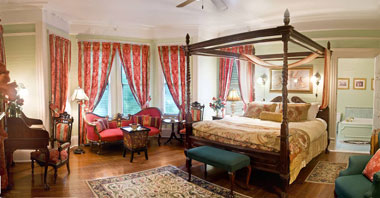 Victorian Interiors - Design Tips
To give you some ideas of how you can budget yourself when designing Victorian interiors, the following are some tips of how you can transform your room(s) with this elaborate style:
Tip 1 - Before you begin your decorating, you need to carefully look at the rooms that you plan on fashioning with Victorian interiors. The space will matter, because it will tell you how much you will be able to put in the room without it being too cramped, or too empty.
Tip 2 - Once you have measured your space you can then proceed with painting the room to capture the perfect Victorian interiors look. The beauty of painting your walls is that it is not costly, and the color of the walls is one of the most important parts of Victorian interiors, because it is the colors which capture the mood of the room.
Colors you will want to choose include dark shades of green, pink, and purple, while other specific color tones are burgundy, ruby and mauve. Select two or three different colors and make them the focus of your room.
Tip 3 - As far as furniture goes, the most affordable type that goes with the authenticity of your Victorian interiors would be wicker. If you can't afford new furniture, you can always cover tables with skirt covers made of rich or embroidered fabrics such as brocades and velvet.
You can then add lace trimmings to the skirt to dress it up.
Tip 4 - Although you won't be able to afford the heavy drapery that is often found in Victorian interiors, you can still add a charming touch by using a white simple roller shade to cover the window for privacy, and then use curtains made of lace.
All you need to do is purchase the desired color of lace you would like from a fabric store, as well as curtain rod, and find simple instructions on how you can make curtains.
Tip 5 - When you are looking for Victorian interiors accessories to decorate the room, you can always create pillows with all the trimmings, add paintings of maidens or flowers in wood frames, or paint the frame gold.
Other great accessories include dried flowers in a crystal or porcelain vase, porcelain dolls, and candles in gold or crystal candle holders. In addition, use doilies to place under decorations that are on tables.
It really isn't difficult to work with any budget, even when designing Victorian interiors. Keep your eyes open for deals, and don't be afraid to purchase items at thrift stores, because it is often there where you will find a variety of the authentic looking items you need to create the look.
Have fun decorating, and use your imagination and creativity to its full potential.
Click here to go back to the home page for more great home decorating ideas! And to share these tips on Victorian interiors, click on the social buttons below.


---