Welcome to Our eBookstore!
Feel free to browse our unique selection of helpful home decorating eBooks. They're available for immediate download, which means you won't pay any shipping charges. But more importantly, you can start decorating right away!
If you're new to eBooks or would like to know why we chose this publishing format, click here.


---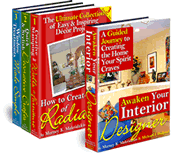 The Awaken Your Interior Designer! Collection (Includes GOLD Bonus Package)
Looking for a complete decorating solution? This super value collection of 4 eBooks covers it all! (Click here for complete details.)

---
Need Fresh Ideas For a Specific
Decorating Dilemma? No Problem!
---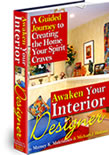 Awaken Your Interior Designer: A Guided Journey to Creating the Home Your Spirit Craves (Includes SILVER Bonus Package)
This is the ultimate step-by-step resource for decorating your home. See how we put this book to the test by using it to answer decorating questions submitted by visitors to our Web site. You're in for a real treat!(Click here to learn more.)

---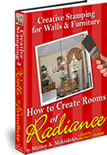 Creative Stamping for Walls & Furniture (Includes SILVER Bonus Package)
Stamping is all the rage! This easy painting technique is...faster then stenciling...gives you more dramatic results than a faux finish...and is less expensive than hanging wallpaper. (Click here to learn more.)

---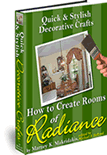 Quick & Stylish Decorative Crafts (Includes SILVER Bonus Package)
Learn the simple techniques for turning outdated items into high-end decorator pieces. Just follow the 275 step-by-step color photos and instructions. And before you know it, you'll be filling your home with custom accessories and furnishings at a fraction of what they would cost you new. (Click here to learn more.)

---
Window Treatments Made Simple(Includes SILVER Bonus Package)
Now you have a resource that will help you avoid costly mistakes and show you how to easily select window treatments that match your decorating style, personality and window type. (Click here to learn more.)

---
How to Make Roman Shades
I reviewed this ebook and it's the best you'll find on how to easily create roman shades on your own. Step-by-step diagrams and easy, yet detailed, instructions will have you making beautiful roman shades in no time at all. Even sewing beginners will find the process easy to follow. Just think of the money you'll save! Click here to learn more.
---
How to Make Window Valances
Excellent book! Now you can effortlessly make beautiful, interesting window treatments for your home, impress your friends and family, and save thousands of dollars. Click here for complete details

---
Easy Organizer
The easiest way to organize every bit of information in your life! Tons of easy to use forms, checklists, logs and information sheets for important family information, goals, planning, personal growth, home maintenance, cleaning, inventory, gardening, home office, computer, vacation and more! Click here for complete details

---

Finally Organized, Finally Free
An amazing collection of 1,300 organizing tips, ideas and techniques to help you organize your home, your office and your life! Clutter-control tips for every room in the house. Time management systems to help you gain extra hours in your day, etc. Click here for complete details

---

Holiday Planner
Tons of easy to use forms, checklists, and logs to help you get organized for the holidays, including holiday To Do lists, planning sheets, holiday dinner guides, holiday cards, decorations, holiday budget and much more! Click here for complete details

---

Home Theater Design
Are you clueless about the in's and out's of designing a home theater? Then read this eye-opening eBook that will give you the confidence to go for it! It addresses a full range of projects from simple, living room installations to complete, dedicated Home Theaters. Click here for details

---
Free eBook
---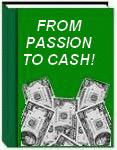 From Passion to Cash: How to Make Money with Your Love of Decorating and Crafts
Do you REALLY love decorating or crafts? Do you wish you could earn a full-time or part-time income from your passion? This FREE eBook tells you how. (Click here to download your FREE copy now!)

---
Our Other Products
---
Strike It Niche!
Are you struggling to come up with a great idea for a business that you can start on the Internet? Now, you can breathe a huge sigh of relief because this ebook contains the blueprints for 70 high demand, low competition niche businesses you can start online, TODAY. Click here to learn more!)

---
Did you find what you were looking for? If not, tell us about it. What decorating topic do you wish we would add to our eBookstore?
Send your thoughts directly to me at Contact Us If we use your idea(s) in an eBook, you'll get a free copy!
Thanks for stopping by,

Michael J. Holland
President
ImagineQuest Information Products Inc.
www.home-decorating-made-easy.com



---