Contemporary Decorations - Creating Magnificent Living Spaces
_____________________________________________
______________________________________________
Depending on your tastes, you may want to start looking at contemporary decorations for your entire home or even just one or two rooms.
If you are building a home, have just purchased a new home or are thinking about redecorating, you should first decide on what theme you are going to decorate in.
It is always exciting, being able to create a room that really says something about your personality. You can make quite a statement with home furnishings and contemporary decorations. Just look at this gorgeous living room below.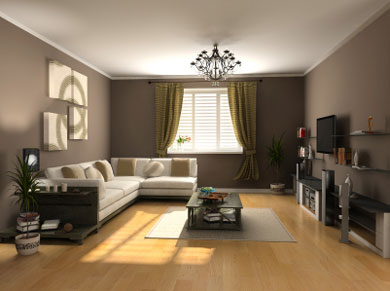 The easiest way to decorate a room or an entire home is to begin with a blueprint. I don't mean the kind that the builders used when they constructed your home but rather a more rough sketch kind of blueprint. You should know all of the facts about the space that you will be decorating before you even begin to look at contemporary decorations or any other furnishings.
What should you do first? Measure and be sure to measure twice to get the correct information. Once you have started purchasing the items that you will use to design your living spaces, it can become very difficult to complete your tasks if you find out that you measured incorrectly. Take your time and get it right. Your best bet is to have someone else help you measure and record the data.
Create a sketch of the room-make sure to add any angles that the walls and ceiling may have and do not forget to properly place doorways and windows on your sketch. Start simple and work your way up-begin with the floors.
Contemporary Decorations - Be Different
There are many things that you can do to a newly constructed or already existing floor in a room. When you are into contemporary design, you may want to consider going for the latest trend in modern design-the concrete floor. As funny as it sounds, concrete flooring that has been specially treated can be a beautiful alternative to traditional flooring choices.
You can add rugs in dark colors that will complement your furniture and other contemporary decorations. Furniture with classic straight, clean lines are very contemporary and will look incredible in any room. Sofas and chairs in leather are both attractive visually and long lasting-perfect for families with children or who entertain in their homes frequently.
Coffee and end tables play a big part in your contemporary decorations for any room, particularly living rooms and family rooms. Well constructed steel and glass tables are among the hottest sellers but you can find a variety of tables that match your decor using a variety of woods, as well. Lighter stains are more contemporary and modern while the darker wood finishes are typically more traditional in style.
Finally, express yourself fully by using pictures and other wall decorations that have bold colors and symmetrical shapes. Other wall hangings can be found to match your contemporary decorations as well as book shelves and display cabinets. Have fun with it, when you are creating a look, you should personalize it and make it exactly what you want it to be.
_______________________________________________
_______________________________________________
Click here to go back to the home page for more great interior decorating ideas! To share these tips about contemporary decorations, please click on the Facebook and Twitter buttons below.