Shabby Chic - Old Is In!
There is a trend growing in homes: shabby chic. Of course, a name like that creates a poor image, one of unfinished walls and holey slip covers. That is not the case, however.
Shabby chic is a mixture of the good and the reasonable; your home is meant to be that, a home, not a showplace. It should be a testament to comfort, function and your own style--shaby chic represents that.
Many try to make their homes something out of magazine; they want perfection. Now, while there's nothing wrong with that, it makes for an uncomfortable environment. Who wants to worry about ruining the setting?
So, some are turning to the less stuffy and more inviting style of shabby chic. The goal is comfort and pleasing looks, rather than perfected elegance.
Do not mistake shaby chic for laziness, however. This style has its own set of rules: you don't just throw down an old chair and say, "Voila!". Shabby chic means taking older furniture, pieces that have tears and scratches, and creating cozy comfort.
All the bangs and dents add character; they make the home looked lived in and welcoming. You use their age and problems as highlights, rather than trying to conceal them. Shabby chic is all about creating something wonderful from objects many people would find ruined.
You may wonder, though, how to actually make a room over in shabby chic. The answer is quite simple: use the old for your new. Taking old quilts, wicker chairs, oversized couches, simple curtains, patched fabrics and more lets you create an environment that people want to be in.
Your living room could actually be that--a place people come to stay and talk, not sit stiffly on the edge of an uncomfortable chaise. With shaby chic, you can create a home, not just a set of rooms.
And this makes the difference for your way of living. With perfection comes a price: the need to keep it up. There's nothing wrong with wanting a beautiful home, but you can't live in perfection. You can't enjoy it.
Shabby chic, however, lets you bring the old into your present, allowing you to experience the comfort of furniture already "broken in".
Shabby chic means throwing away the old ideas of right and wrong; it means shuffling around your attic to find antiques that your mother left you and you never knew what to do with them--until now. It means showing, with pride, that quilt that has been patched and repatched.
It means using welcoming tones of the walls, greens and reds, rather than the typical whites and beiges of modern houses. It means...letting people see that you live in your home, rather than just stay in it.
Shabby chic is all about comfort and creating a style that doesn't seem overly-stylized. By using older pieces, you can create a statement of simple elegance and functional convenience. Shabby chic is jut that, a little tattered on the edges but still good.
Recommended Reading for Bedroom Decorating Ideas - Books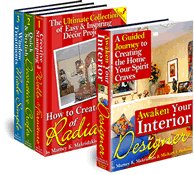 (1) *NEW* The Awaken Your Interior Designer! Collection - Brought to you by Home Decorating Made Easy, this first of its kind collection of interactive guidebooks is filled with lots of bedroom decorating ideas. Create the warm, inviting bedroom of your dreams easier and faster than ever before without spending lots of money.



Click here for more great ideas to help you with your home decorating!