Mediterranean Decorating - Feel The Warmth!
_________________________________________
_________________________________________
There are many ways in which you can capture Mediterranean decorating, if you are interested in designing some of the rooms in your home interior with this theme.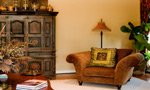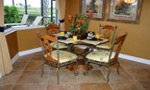 Like every theme, you will find that there are specific colors, and designs that are linked to Mediterranean style decorating.
For starters, Mediterranean design is based on specific regions of the world. These regions include Italy, Southern Spain, Greece, Tuscany, Turkey and North Africa. Keep this in mind when you begin your shopping journey, so that you don't stray away from the true Mediterranean decorating designs that are available on the market.
To give you a basic idea of what is involved, when seeking to capture a room designed in a Mediterranean theme; the following are some Mediterranean decorating tips for you to keep in mind when you are on your search:
Mediterranean Decorating Design Components
Floors - a popular look when using Mediterranean decorating as the basis for your floor design is tiles that look like bricks. The best color for these tiles, besides brown, is terracotta. Another interesting design to add to the floors is tiles patterned with simple flowers like daisies.
Walls - The walls in Mediterranean decorating are often warm looking, in tones of brown, amber, olive green and terracotta. This shouldn't be too hard for you to picture or imagine, after all think of the regions that make up the Mediterranean fashion. Each of these places is warm and should make you think of the sun.
Other wall Mediterranean decorating options include designing the wall to make it look thick by giving it a stony look. You can achieve this by using plaster and stone.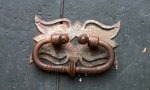 Windows - The windows in a Mediterranean style room should be made to look like they are deep into the wall. As for their coverings, the best look is shutters.
Furniture - As far as furniture is concerned with Mediterranean decorating, the furnishing pieces in a room should be simple and not overly elegant. Solid rich wood always makes a nice touch. And if you are using Mediterranean decorating for your bedroom, the best looking bed style is a four poster free of the canopy, curtains and excess decorations.
Decorating Accessories - The decorations in a Mediterranean themed room should be simple and few. Some of the more popular items include paintings, mirrors, intricately designed candle or light holders for the wall.
Just remember when decorating the room, regardless of which one it is, too many decorative objects only clutter a room, and take away from its theme and splendor. Therefore, carefully choose or create only the items that most interest you, and take the time to position them in the room until they look just right.
Hopefully these ideas have helped you on your quest to capture the Mediterranean look in your home interior. However, don't forget that another great way to discover the authentic Mediterranean decorating look is to collect, and analyze a variety of different pictures that display various rooms fashioned in Mediterranean décor.
More Home Decorating Ideas - Recommended Reading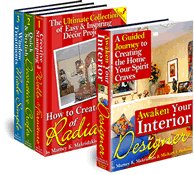 (1) The Awaken Your Interior Designer! Collection Brought to you by Home Decorating Made Easy, this first of its kind collection of interactive guidebooks is guaranteed to help you decorate any room in your home faster and easier than ever before. You'll find lots of interior decorating ideas to create unique spaces that fit your family's lifestyle without spending lots of money.
Click here to go back to the home page for more great home decorating ideas! And click on the social buttons below to share these Mediterranean decorating tips.