Traditional Decorating - Tips To Help You Select The Right Decor
_______________________________________________
________________________________________________
A traditional decorating style recalls times long past. This style is typically more formal and has a European pedigree. This becomes clear when you examine the elegant living room below. The furniture and furnishings are classic traditional. And you certainly notice the European flair.
The symmetrical decor on the fireplace mantel re-enforces the traditional style. And the window treatments help to define the room's elegance.
Use the list below to help jumpstart your thinking for traditional decorating ideas. This way, you will know which type of furniture and furnishing will work best together and help you achieve the look you want. This list is by no means all inclusive.
Walls And Windows
Wall stenciling
Fabrics choices for draperies include Chintz, Plisse, Damask, Taffeta, and Toile de Jouy
Paint colors are cool (from the green, blue, and violet family)
Choose wall paper that complements the fabric choices mentioned above
Lighting
Multi-light antique bronze, brass or crystal chandelier
Tiffany lamps
Table lamps with urn shaped base and silk shade
Gold colored picture frame lights for your best pieces
Furniture
Wing back chairs
French country chairs and dining table
Antique chest and armoire
Four-poster or canopy bed
Cherry wood tables and chairs
Fabrics choices for upholstery include Chintz, Damask, Tapestry, and Brocade
Furnishings/Accessories
Oriental area rugs
Tiffany floral three panel screen
Classic portraits (of nature, history, the arts) in ornate frames
Antique tea sets and place settings
Decorative boxes
Plants and flowers (consider using maintenance-free silk versions)
I think accessorizing your home is where the real fun begins. Through these items, you will tell the world something about YOU. That's why you'll want to add items that reflect your personality.
For example, note the old-fashioned euro-style telephone on the nightstand. It's a small touch, but the eye picks it up right away because it's interesting.
Finally, I recommend that you pay All Posters a visit for your art work. They'll even frame it for you.


I hope this information on Traditional decorating has been helpful. For more information related to this topic, check out the resources below.
Increase your knowledge about Traditional Decorating - Books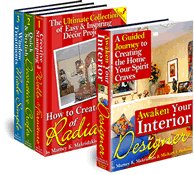 (1) The Awaken Your Interior Designer! Collection - Brought to you by Home Decorating Made Easy, this first of its kind collection of interactive guidebooks is guaranteed to help you decorate any room -- in a Traditional decorating style or any style -- faster and easier than ever before! Create a beautiful rooms that matches your families lifestyle without spending lots of money. Filled with lots home decorating tips and color photos of "REAL" homes.

Click here for more great ideas to help you with your home decorating! And to share these traditional decorating tips, please use the social buttons below.


---