How To Select An Interior Decorator
______________________________________________
_______________________________________________
Thinking of hiring an interior decorator for your home interior decorating project? Before you do, use the tips below to help ensure that you get exactly what you want.
First, you should know the difference between a decorator and a designer…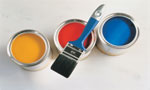 An interior decorator is someone who has an eye and expertise in dealing with the aesthetics of home decor such as color, paint, fabrics, furnishings, lighting, and other materials.
While there are many decorators with years of experience, and they may be extremely creative, no professional certification is required for this designation.
An interior designer is someone who has a formal education in the field, and is qualified to perform general drafting and basic remodeling in addition to decorating. They can also read architectural blueprints and have a grasp of structural concepts. In 18 states, they must pass a strict exam and be licensed.
Most interior designers belong to professional organizations such as the American Society of Interior Designers (ASID), the International Society of Interior Designers (ISID), or the Institute of Business Designers (IBD).
However, as you search for decorating services, don't automatically assume that an interior designer is the way to go. Many interior decorators are capable of doing much of the work of a designer and some designers will be less talented than some decorators.
But, I will say that if your decorating/design vision will involve structural changes to your home, it is best to seek out a qualified interior designer.
Tips For Hiring An Interior Decorator Or Designer
Whether you elect to hire an interior decorator or interior designer, use the following suggestions to help select the right person for the job:
Select someone who has a similar decorating/design style as yours. This way you'll know that both of you are heading down the same path.
Ask to see their portfolio. Any experienced decorator/designer will be more than happy to share their accomplishments. If you like the room in a photograph, ask them how much it cost to decorate/design.
Ask for references. Save this for the interior decorator or interior designer to which you intend to award the work.
Contact the Better Business Bureau. If the decorator/designer is registered with them, you'll be able to find out about customer complaints.
Designers/decorators are like doctors and attorneys in that they rely on word of mouth referrals. So ask around, but if this doesn't work check the telephone directory.
Remember that retailers of furniture, window treatments, and other home decor usually have interior decorators on staff.
A good designer/decorator should be a good listener. You should feel comfortable that your vision is not being replaced by the designer's/decorator's vision.
Before you meet with the designer/decorator, gather your magazine pictures, and fabric, carpet, or other samples. This will help jumpstart the conversation and ensure that he/she internalizes your vision.
Discuss money up-front with your interior decorator or interior designer. Tell them the amount of your budget. If you are looking to save money, ask what you can do on your own to keep costs down.
Decorators/designers bill clients in a number of ways. They may charge by the hour, day, or project. In addition, they will ask for a percentage mark-up on furniture that they are able to purchase from retailers on your behalf at wholesale prices.
Of course, here at Home Decorating Made Easy you'll find lots of information and ideas to tackle just about any home interior decorating project on your own.
I recommend that you use this site to decorate the areas you feel most comfortable doing yourself. Then, if you feel the need to hire an interior decorator, have them focus on the areas where you could use specific expertise. And always take advantage of the FREE decorating advice offered by retailers.
Finally, if you want to just go into the open market and hire an interior decorator or designer of your choice, then watch this video for tips that can keep you from getting frustrated with the process.
I hope this information on selecting an interior decorator or interior designer has been helpful.
Click here for more great ideas to help you with your
home decorating!
To share this information about hiring and interior decorator or designer, click on the Facebook and Twitter buttons below.