Bring a Little of the Jungle Inside Using Tropical Decorating
Many times when we think of tropical decorating, bright red and yellow birds in palm trees come to mind. But tropical decorating doesn't always look like this.
There is another side to the tropics that brings in the earth tone colors of the region with some subtle additions of the brighter hues.
Perhaps the word safari conjures up the more earthy images of this type of tropical decor. This word seems to bring to mind the more basic colors along with the natural images of tropical plants and animals.
Though they may be referred to as basic, there is a world of various colors in tropical decorating schemes. The greens of the forest, the rich browns of the earth, as well as the huge variety of colors of the plants and animals.
For tropical decorating in children's rooms, we tend to focus on the more cartoonish colors that exist in tropical regions. When you are trying to stimulate the imagination of a child these colors work magic.
But for the other areas of our homes, the softer colors of the tropics help bring in a more sophisticated feel. Mahogany, tan, gray, and green are just a few of these colors. You can help highlight your tropical decorating scheme by using the lighter colors for the main focal points and the darker colors as accents.
Furniture in tropical decorating includes materials that bring to our minds natural, wooded regions. Wicker is one of these materials.
While white wicker brings more of a beach-front look to mind, the natural colored wicker furniture brings in the wooded tropic style. Bamboo is another example of material with a very natural, tropical decorating look.
You can find many pieces of furniture made from real bamboo stalks. Tables, chairs, bar stools, and bookshelves are just a few of the pieces you can find either on the Internet or at home stores. These natural woods go a long way in giving your room the feel of a tropical hut.
Plants indicative of the tropical region such as banana plants and various palms work well with the tropical decorating style. These can grow very healthy as houseplants, and can actually reach tall heights if placed in a large enough pot.
There are several other houseplants of tropical origin that will go well in your tropical decorating style. Some of these are the rubber tree, aloe plant, African violet, and Peace Lily. Using pots made of natural material such as wood or clay will add another fitting accent to your room.
Tropical decorating can also include art that accentuates the style. Pictures of tropical scenes or exotic animals add a great touch to a room whether used on wall prints or as prints on accent fabrics.
Animal hide patterns have even become stylish again and can be used for pillows, rugs, or throws. Tropical fruits also add a stylish accent when used in your room. Bananas, pineapples, and coconuts can be used in fabric patterns or almost any artwork in your room.
These are just a few ideas for how to add a tropical look to a room in your home where you can sit back and relax with a true feeling of the outdoors. You might also check out information about sunroom designs that might be perfect for your tropical home.
More Interior Decorating Ideas - Recommended Reading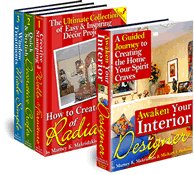 (1) *NEW* The Awaken Your Interior Designer! CollectionBrought to you by Home Decorating Made Easy, this first of its kind collection of interactive guidebooks is guaranteed to help you decorate any room in your home faster and easier than ever before. You'll find lots of interior decorating ideas to create unique spaces that fit your family's lifestyle without spending lots of money.


I hope these tropical decorating ideas have been helpful. Click here to go BACK to the home page for more great home decorating ideas!



---
Contact Us
Copyright © All rights reserved.
ImagineQuest Information Products, Inc.
4613 N. University Dr. #186, Coral Springs, FL 33067
Phone: 954-345-9972