Victorian Interior Design - Accessorizing
When it comes to Victorian interior design, you will discover that there are many ways you can use accessories to decorate your rooms to reflect the Victorian style that existed in 19th century England.
As you should already be well aware, Victorian interior design is extremely elaborate, and for the most part, particularly feminine. For this reason, you will want to take into consideration the room, or rooms, that you wish to fashion in this style.
Something else you should consider is the fact that Victorian interior design can be quite costly, as the people from this time period spared no expense when it came to designing their rooms. With this in mind, here are some of the accessories you can add to your Victorian themed room, after you have painted and furnished it.
Porcelain Dolls - Porcelain dolls add a nice touch to Victorian interior design because they are known for their detail, fragility and beauty. Porcelain dolls would be a charming addition to your girl's room if you plan on giving her a Victorian style bedroom.
Oriental Rugs - Area rugs are an excellent accessory for any floor in Victorian interior design, regardless if the floor has wall-to-wall carpeting or hardwood. The number one choice for area rugs is those of oriental design, which have patterns of flowers, leaves or swirls.
Candle Holders - Candle holders are always a charming decoration, as they reflect the authenticity of the period. The popular candle holder choices include gold, brass, or crystal.
Clocks - For Victorian interior design, the best choice of clock would be the grandfather clock. However, if you are looking for something a little smaller, wall clocks made of wood, and carved with a design will do just fine.
Antique Paintings or Pictures - The best style of paintings are those that are of young maidens, children, botanicals, elegant nature scenes, or portraits of ancestors. In addition to these Victorian interior design popular art decorations, you can also choose to use some old photos of your family, either those done in black and white or detail. The most popular types of frames for both paintings and photographs are those made of wood, or are painted gold.
Trimmings and Bows - Be sure to add lace trimmings, as well as beads, ribbons, bows and other frills to the upholstery that is in the room.
Pillows - Embroidered pillows, or those made of rich fabrics such as velvet or brocade, are also wonderful Victorian interior design accessories that can be used to decorate chairs, sofas or beds. Be sure to add special trimmings to the pillows for the perfect touch.
Dishes - Old fashioned dishes, such as plates with pictures or designs make perfect wall hanging ornaments.
Vases - Crystal or porcelain vases are a charming addition to the room, especially if they contain fresh cut, or dried flowers.
Doilies - Embroidered doilies create a nice look when they are placed underneath the various decorative items that cover tables, such as lamps, candle holders, etc.
Mirrors - Antique mirrors are a great way to open up the room, as well as providing that old fashioned Victorian touch.
Collectable Ornaments - You can stock any of your wooden shelves in your room with porcelain or crystal collectibles.
There you have it, a variety of accessories for you to use to add to your Victorian interior design. Have fun decorating, and creating the perfect room that even people from the Victorian period would approve of.
More Home Decorating Ideas - Recommended Reading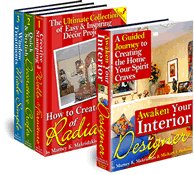 (1) The Awaken Your Interior Designer! Collection Brought to you by Home Decorating Made Easy, this first of its kind collection of interactive guidebooks is guaranteed to help you decorate any room in your home faster and easier than ever before. You'll find lots of interior decorating ideas to create unique spaces that fit your family's lifestyle without spending lots of money.

I hope these Victorian interior design ideas have been helpful. Click here to go back to the home page for more great home decorating ideas!



---