Tips To Help You Select The Right Contemporary Home Decorating Decor
This home decorating style is unmistakably sleek, hip, funky, chic…and probably a few other names I can't think of right this moment.
With contemporary home decorating, your décor is simple yet bold. While one might confuse elements of the other decorating styles with one another, contemporary decorating is a truly unique.
Use the list below to help jumpstart your thinking for contemporary decorating ideas. This way, you will know which type of furniture and furnishing will work best together and help you achieve the look you want. This list is by no means all inclusive.
After you're done, come back here, if you wish, and click on this link … Home Decorating Tips …to learn more about the other home decorating styles.
Walls And Windows
Pastel paint colors
Bold paint colors
Simple shutters or nothing over windows
A faux finished wall or two (used as an artistic backdrop)
Lighting
Recessed lighting in ceiling
Nickel and glass pendants lights or chandelier for dining area
Touches of neon lighting
Fluorescent kitchen lighting
Polished steel desk lamp with bendable arm and pivoting head
Retro lamp designs
If you could use a few more lighting ideas, just do what I do, and visit Bellacor. They have a very impressive selection of unique lighting to satisfy every home decorating style.
Furniture
Glass topped, steel coffee table
Sleek leather and steel or polished wood chairs
Scandinavian design furniture
Low bed with plain headboard and no footboard
For additional furniture ideas, I recommend that you first visit
Furniture Fan.
They don't sell furniture, but you can view thousands of home interior decorating pieces online for ideas and find stores in your area that sell the items that catch your eye. You can compare prices from the comfort of your home. This is an invaluable, time-saving tool.
Another furniture resource is Furniture Find. They sell the name brands you are most familiar with. You'll find lots of great ideas here as well.
Try using both sites to find the furniture that will fit with your contemporary home decorating ideas. You may also save yourself a few bucks in the process.
Furnishings/Accessories
Abstract glass sculptures
Primitive art and sculptures
Black and white pictures/ prints in lacquer frames
Area rugs with abstract or geometric design/patterns
Glass and steel display shelves
Large colorful abstract paintings with simple chrome or brass frames, or no frame at all
I think accessorizing your home is where the real fun begins. Through these items, you will tell the world something about YOU. That's why you'll want to add items that reflect your personality.
If you appreciate earthy artifacts like I do, then you'll enjoy browsing Novica. They have many handmade pieces from all over the world. You'll find masks, vases, and more that would look great on your display shelves.
Finally, I recommend that you pay All Posters a visit for your art work.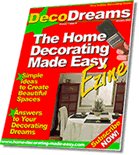 I hope this information on the Contemporary home decorating style has been helpful.
If your home could use a little spicing up, then don't miss an issue of DecoDreams, our FREE e-zine. You'll find lots of tips to help busy weekend decorators like yourself. Click here for more great free interior decorating ideas.

And if you'd like to explore some great books on this topic, please check out the recommended home decorating resource links listed below.
Increase your knowledge about Contemporary Home Decorating - Books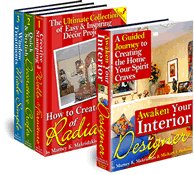 The Awaken Your Interior Designer! Collection - Brought to you by Home Decorating Made Easy, this first of its kind collection of interactive guidebooks is filled with lots of bedroom decorating ideas. Create the warm, inviting bedroom of your dreams easier and faster than ever before without spending lots of money.

Click here for more great ideas to help you with your home decorating!



Thinking of starting a Net business and want a no muss, no fuss way of doing it? Visit SiteSell.com