Discerning Details In Tuscan Decor
An original tuscan decor is a literal representation of nature. It combines all of nature's purest elements in a collective decorating style that is dramatic yet remarkably unpretentious.
To create an authentic tuscan décor you must use a discerning eye in decorating. This means that you need to pay attention to details in colors and textures. It is the precise combination of these decisive components in that will determine the outcome of your decorating project.
Since we have established the fact that with tuscan décor it is all in the details, let's consider how we can learn to better direct our decorating focus towards defining details.
Learning to direct our attention to detail in tuscan decor is genuinely quite simple. Amazingly enough, you can fine tune your decorating eye in this style of interior design easily. All it requires is merely studying a not-so-common animal.
An animal, you say for recognizing tuscan decor details? Now, you are probably thinking that this might be a ready solution for learning to spot detail if you were decorating in a tropical style.
But since you are concerned with developing your tuscan decor eye for detail rather than a tropical detail eye, you will not need images of spotted leopards, striped tigers and zebras, calico-designed giraffes or tropical birds.
However, you have definitely at least discovered the right path with the animal category of birds.
Interestingly enough, the bird you can study to learn about color and texture details of the tuscan décor is a peacock. This distinctive creature has been admired throughout history for its brilliantly colored feathers, which are what most of us notice predominantly.
Of course, it would be impossible to consider the peacock without noting its dazzling plumage of feathers. But, how does the peacock in any possible way relate to tuscan décor details? It is the understanding of why we notice the peacock's proud feathery display that can be translated into decorating details.
What specifically do we notice other than its feathers when looking at a peacock? Probably not very much of course, other than the fact that it's larger that most birds, but then so is the eagle and the ostrich. So that fact alone doesn't make it all that unique.
Take a close look at the peacock's body, not thinking about its feathers at all. Not much to write home about, is there? Typically its body appears to be a muddy brown color in varying degrees, but look a little more carefully.
On closer inspection, you will see that the muddy brown color often present in tuscan decor is actually an earthy combination created by deep purples and forest greens. You will even see an occasional blue or aqua hue mixed in here and there.
It is this exquisite combination of unique colors that translates into the earthen color palette of tuscan decor as well as the in the color of the peacock's body. In other words, these colors combined create the backdrop so to speak against which the peacock's feathers are truly allowed to create a dramatic appearance.
This is why we notice the feathers so much more when the peacock is actually displaying them rather than if we see an individual feather.
The dazzling kaleidoscope of colors present in the feather is most prominently display against the backdrop of the peacock's body. This is also true in the tuscan decor style of interior design.
Consider the earthen tone that you will use as the base from which to build your tuscan decor. Then choose colors such as those found in the peacock's feather to accentuate that color to express your own distinctive style.
Choosing the same colors as those found in peacock feathers to create dramatic tuscan decor that celebrates nature.
Mix in brilliant reds and simmering golds to represent the sun.
Use shades of cool aqua to crystal-clear blue to symbolize water and sky. The deliberate inclusion of these colors will create a dramatic statement in tuscan decor.
More Home Decorating Ideas - Recommended Reading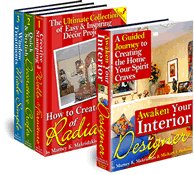 (1) *NEW* The Awaken Your Interior Designer! CollectionBrought to you by Home Decorating Made Easy, this first of its kind collection of interactive guidebooks is guaranteed to help you decorate any room in your home faster and easier than ever before. You'll find lots of ideas to create unique spaces that fit your family's lifestyle without spending lots of money.

I hope these tuscan decor ideas have been helpful. Click here to go back to the home page for more great home decorating ideas!



---