Your One-Stop Source For
Unique & Easy Home Decorating Solutions!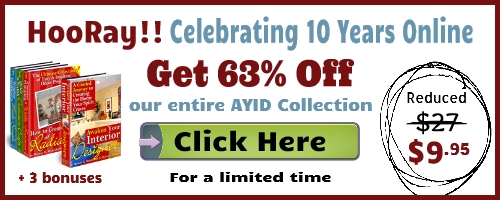 Free Report Reveals New, Easier Way to Create
Beautiful Spaces for Those Struggling
to Awaken Their Inner Decorator
If you find it difficult to come up with ideas for decorating a room or space in your home, I have just what you need to unlock and unleash your creative decorating juices. It's a simple, but effective approach that we call "Decorating By Heart".
The Before and After photos below of the turquoise and orange living room will give you an idea of what's possible.

The approach encourages you to decorate a space based on what you love or something that inspires you.
Click here to grab the FREE Turquoise and Orange Living Room report
In the report, you'll learn the details behind the approach. But here's a basic overview of how it works.
First, jumpstart your decorating inspiration by choosing an image or object that you love. It can be a beautiful view, favorite dessert, majestic animal, thrilling adventure souvenir, cool machine, family keepsake, funky artwork, etc.
I don't care what it is. Just pick something that brings a smile to your face and that conveys a positive energy and feel that you'd love to re-create in a room.
Second, deconstruct the inspirational item. Breakdown everything you see in the image/object into the major decorating components such as colors, shapes, etc. The great thing about the item you choose is that it already provides a composed beauty that you're simply taking advantage of. There's no need to rack your brain trying to reinvent the wheel.
Third, select the most important elements and artfully reconstruct them in your furniture and other decor choices. You'll be amazed by your ability to re-create the same feelings and emotions.
Dowload the FREE case study to get the full story
The beauty of this process is you'll be able to quickly and confidently determine a theme and direction for your decorating projects. And by using something that you love as inspiration, your personality will naturally shine through.
All in all, you'll save time and money, and be much happier with the end result.
So what are you waiting for?!
Click Here to download your free "Decorating By Heart" report
Happy Decorating,
Michael & The HDME Team
______________________________________________

*******************************************
Circle Of Friends: Decorating Kids Rooms |RC Cars| Butcher Block Countertops |Walk In Baths |Kitchen Island Designs

Also visit the following...
A collection of home decorating articles from Home-Decorating-Made-Easy.com
Find hundreds of home improvement articles in the Article Gallery at Home-Decorating-Made-Easy.com.
Want to submit an article or story to our Article Gallery? First read these articles submission rules to ensure that your articles get accepted quickly.
Do you have a home decorating success story you'd like to share?
DecoDreams is a free e-zine that offers free interior decorating ideas. Look no further for unique and original free home decorating tips.
Our decorating eBookstore offers solutions for all your interior decorating needs. These unique interior design books will transform your home in ways you never imagined!
Join our high-paying affiliate program
Advertising on home-decorating-made-easy.com
The Home Decorating Made Easy blog offers lots of fresh tips and ideas for decorating every room in your home.
contact us
Click here for contact details
These home decorating tips will ensure that your project stays on track and within budget. They cover the planning elements you need to successfully implement your interior decorating ideas.
These interior painting ideas will help you select the right paint color and provide ways to bring your walls to life. Interior painting is one of the best ways to set the mood of any room.
Learn the techniques used by decorating pros to select and display home decorating accessories. Your home decorations should let the world know about you.
Learn the basics of what look for when selecting flooring and floor covering for your home. Make your decision based on your overall home interior decorating plan.
Selecting the right window treatments isn't difficult if you know the basics. Use my window treatment ideas to put you on the right path.
These simple bedroom decorating ideas will transform your room into a cozy, romantic retreat. Your bedroom décor will make a difference in creating the mood you want.
Take your bedroom decorating ideas beyond the master bedroom. Treat your guests to comforts that are only matched by a luxurious hotel suite
When decorating childrens rooms you must consider these frequently over-looked elements that will make it child-friendly.
These living room decorating ideas give insights on critical decorating issues such as finding your focal point and arranging your living room furniture. I'll even show you my living room.
These kitchen decorating ideas will transform your existing kitchen design from ho-hum to mesmerizing.
Use these ten home decorating ideas to update any room over a weekend. I've also compiled ideas to help with other home interior decorating issues.
One of the most challenging parts of decorating a basement room is lighting. Many finished basements have rather low ceilings, and this can cause the room to appear dark and almost cave-like.
This is the privacy policy for home-decorating-made-easy.com