Tuscan Fabric - Its Underlying Harmony
The decisive use of tuscan fabric creates an overall commune with nature ... one that is furthered throughout the interior with other elements of tuscan decor. This collective tone is set appropriately with the use of materials that symbolize the celebration and embracing of nature.
Just as color is symbolic in this décor, tuscan fabric is the element that unifies particular style of decorating.
It creates a harmonizing effect that can be felt in every nook and cranny, bring welcome warmth to the elements of natural stone that could seem cold and uninviting if left to stand alone as a defining statement.
The tuscan style fabric also adds depth to other ingredients found in the tuscan mix. Iron, pewter, tin and unpolished copper, along with other basic metals have their distinct characters further defined when displayed decoratively against the precise fabric that allows their presence to speak prolifically.
It seems that the tuscan fabric is somewhat of an illusive find. You probably already know this if you've already been searching for the perfect fabric to use in your tuscan themed décor.
It's generally truer though that tuscan fabric is seldom on display with its own identifying sign. Given this, you'll need to learn how you can identify it on your own, since even the sales clerk may not be able to be of much assistance in this area.
Signatures of tuscan fabric
Natural materials reign supreme in this area. Think basic woven textures here for curtains, drapes, room dividers and other decorative fabric pieces.
A definitive tuscan fabrics for decorating living areas is burlap, created by weaving natural jute. Select weaves of heavier weight for a more finished look in drapes. Loose weaves will create a light an airy feel for curtains inviting the wind to breeze through open windows.
Other premium choices in tuscan fabrics include those made from the abaca fiber as well as those made from fibers of the banana tree. By nature, these are typically a neutral tan in color, but can also contain various color pigments made by fusing natural paper pulp into the original tuscan fabric itself.
Materials such as savannah cloth and tobacco cloth are significant choices in tuscan fabric for decorating. They have a heavier weight than some natural fabrics, but they are of a density that makes them very flexible. Both of these materials are extremely versatile and work well for creating windows shades or screens.
Accessorizing with tuscan fabric
If you choose natural materials such as those discussed here for curtains or drapes, you'll need to add other tuscan elements to spice it up a bit. While tuscan décor is indeed natural in general, remember that it is also harmonizing, which means that it incorporates all of nature.
Dramatic effects can be achieved by pairing tuscan style curtains with ties or swags made from raffia paper. Use it to tie a simple ribbon on the handle of a pewter pitcher or other decorative piece.
Choose ribbons that contain color pigments as mentioned before in yellows and reds to bring in colors of the sun.
Instead of using basic tassels on drapes, create signature accents by adding terra cotta beads in various shapes and sizes. Natural jute tassels have a tremendous impact when decorated with copper beads and attached to any tuscan fabric window treatments.
Wooden beads can also be used, but will create a more vivid expression in tuscan décor if painted to bring in other various components of the earth such as the sea, the forest or luscious vineyards spanning the rolling hills.
More Home Decorating Ideas - Recommended Reading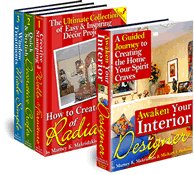 (1) *NEW* The Awaken Your Interior Designer! CollectionBrought to you by Home Decorating Made Easy, this first of its kind collection of interactive guidebooks is guaranteed to help you decorate any room in your home faster and easier than ever before. You'll find lots of interior decorating ideas to create unique spaces that fit your family's lifestyle without spending lots of money.

I hope these tuscan fabric ideas have been helpful. Click here to go back to the home page for more great home decorating ideas!



---