Cottage Decorating - Get Cozy And Comfy
______________________________________________
________________________________________________
If cottage decorating is how you would like to dress up the interior of your home, there are many exciting ways you can make this dream become a reality.
Since cottage decor is similar to a country style, you have a variety of options when it comes to selecting the cottage style decorating items you will need to transform the look of your room(s).
The first aspect about cottage decorating that you need to take into consideration is that the atmosphere of a room that has a cottage theme, should be one that is comfortable, lived in, and very simple.
Cottage Decorating Tips
The following are some tips that you can consider when thinking about how you will use cottage decorating to add a new touch to your room(s):
Windows - When dressing up your windows with the cottage theme, it is best to keep it simple. Plain shutters or blinds will do the trick if you are looking for privacy, and a nice lace curtain will provide the finishing touch.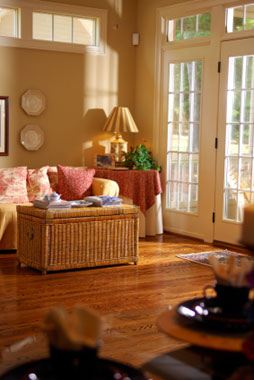 Floors - When it comes to cottage decorating floors, there are a few options you may wish to think about. You could use bare wood floors to add authenticity, or transform the look of new wood floors into an old rustic look.
You may also be interested in painting the floors, by using different stencils to create a design of your choice on the floor. Area rugs are also a nice touch to floors, as you can purchase a variety of rugs that have nature scenes, floral patterns or just about anything else that will go with your cottage decorating theme.
Furniture - Usually the best type of furniture for cottage decorating is the more simple looking designs, such as wicker furniture. However, wood furniture is also nice, but you certainly do not need to run out and purchase a whole new line of furniture just to suit your cottage them.
You will find that by dressing up the furniture you already have, by either providing slipcovers for the couch, and adding paint to the furniture, you can make all of your old furnishing look like new. If you decide to paint your furniture, keep in mind that it is a good idea to paint all pieces the same color to avoid clashing.
Colors - cottage decorating colors for walls are often warm colors such as light or medium yellows, browns or terracotta. Other popular colors include green, as well as white.
As far as upholstery is concerned, the most popular and well recognize cottage designs are bold or vibrant nature themes or floral patterns.
When you choose the color scheme for your walls, a good idea is to have the wall color apart of the upholstery coloring. This will add a nice touch to your room because your furniture will accent well with the wall.
Rustic Accessories - adding authentic accessories to suit your cottage decorating style shouldn't be difficult. You can be creative and use a bench to act as your coffee table, and you will discover that just about any decorative item made out of iron, such as a candle holder, will really add to the tone of the room.
Another great idea is to add a plant or fresh simple flowers in a vase to the room.
One of the best aspects about cottage decorating is that it suits just about everyone's budget, so have fun and be creative when designing your rooms. You'll find the more heart you put into your interior decorating, the more you will enjoy the final result.
More Home Decorating Ideas - Recommended Reading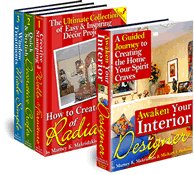 (1) The Awaken Your Interior Designer! CollectionBrought to you by Home Decorating Made Easy, this first of its kind collection of interactive guidebooks is guaranteed to help you decorate any room in your home faster and easier than ever before. You'll find lots of interior decorating ideas to create unique spaces that fit your family's lifestyle without spending lots of money.

I hope these cottage decorating ideas have been helpful. Click here to go back to the home page for more great home decorating ideas!