Decorating Styles - Discover the Many That Await You
____________________________________________
____________________________________________
Decorating styles differ from one person to the next; therefore you will want to think about what interests you, as well as how much you are willing to spend on your new home interior project.
You will find that many exciting and diverse decorating styles await you, so be sure to pick out the theme that suits your budget, and you find makes you happy. It is important that the room(s) you decorate is cheerful, warm and inviting to you, your family members, as well as your guests.
Non-Traditional Decorating Styles That Might Interest You
The following are a few themes, as well as a few tips and ideas for each design to help you decide the type of decorating styles that most interest you:
* Victorian - Rooms that are fashioned with Victorian decorating styles are extremely elaborate, and are particularly feminine. Most of the authentic furniture pieces are made of rich wood, and are designed to replicate the furnishings that were popular during the Victorian period.
All fabrics such as the curtains, bedding, etc. are usually made of heavy materials such as velvet, and brocade, and have trimmings of lace, beads, ribbons and bows to add further decoration.
The color scheme of the Victorian rooms decorating styles is often done in rich hues of blue, green, pink, burgundy, mauve and so on, while the decorations usually consist of paintings, porcelain dolls, dried flowers, etc.
* Modern - The modern theme consists of decorating styles that are based on open concept. The color scheme for the walls are in shades of light to cool colors, which are accented with bright and vibrant colors that are found on furniture decorations, area rugs or upholstery.
Modern styled rooms are very spacious, and are meant to draw attention to the items within the room. For instance, abstract and unique art is a common favorite in these rooms.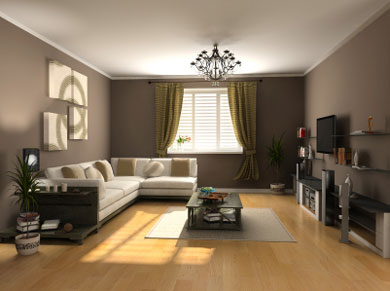 * Oriental - the oriental decorating styles that can be added to a room include dark furniture made of wood, light colored walls, and a variety of rich colored authentic decorative pieces carefully placed to balance the look of the room to create the perfect picture.
Popular oriental decorative items include Chinese dragons, fans, elephants, screens and so on. Popular colors for upholstery and other fabrics include jade, coral, red, and ivory, and silk is the primary choice of material for fabrics.
Other themes include:
* Traditional
* Southwestern
* Whimsical
* Primitive
* Old World
* Romantic
* Shabby-Chic
* Country
* Mediterranean
Now that you have an idea of the different types of decorating styles that you can choose from, you can begin narrowing down your decisions by taking your home situation into consideration.
For example, if you have young children, you may not want to design a room that is decorated with expensive carpets, floors, furniture or other accessories. You also need to think about how long you plan on staying in your current home, as well as how much time you spend in your home, and if you frequently have visitors.
By knowing the answers to all of these questions, will help you choose the decorating styles as well as the rooms you need to place your focus on.
More Home Decorating Ideas - Recommended Reading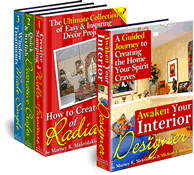 (1) The Awaken Your Interior Designer! CollectionBrought to you by Home Decorating Made Easy, this first of its kind collection of interactive guidebooks is guaranteed to help you decorate any room in your home faster and easier than ever before. You'll find lots of interior decorating ideas to create unique spaces that fit your family's lifestyle without spending lots of money.

Click here to go back to the home page for more great home decorating ideas! I hope these ideas about decorating styles have been helpful.