Kitchen Decorating Ideas That Tantalize
Kitchen decorating and kitchen designing are related, but not the same things. Kitchen design includes replacing or significantly enhancing many of the functional aspects of your kitchen, such as cabinets, appliances, storage areas, flooring, countertops, etc.
Overall, your kitchen will look beautiful from a functional and architectural standpoint, but you will still have to decorate it.
In this article, the focus will be on kitchen decorating, which involves adding the personal touches and easy design changes that will make it a warm and inviting place. Simply put, kitchen decorating requires more YOU than money!
In a minute, I'll show you a couple of great videos that prove this point. You'll also get a peek into my kitchen and learn some things that were done to transform it.
Today's kitchens are truly busy places, going beyond traditional cooking and dining activities. In many homes, they have also become second living rooms…used for family gatherings, doing homework, and entertaining.
I think one reason for their popularity is due to open-plan designs where kitchens and living rooms flow from one to the other, separated only by a small bar or counter. The other reason might be that kitchens have a way of tantalizing all of our senses like no other room can.
This is where YOU will make the difference.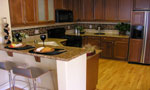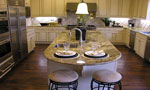 But whether you're an enthusiastic cook who frequently entertains or someone who doesn't know a colander from a calendar, your kitchen is the heart of your home, and you want it to look great.
The good news is that you don't have to break the bank to create a kitchen that is equal in function and beauty. In this video below, take a look at how a very nice kitchen makeover was done for less than $700. Some of the changes include painting the cabinets and walls, replacing the faucet, and more. You'll be surprised at how little inexpensive changes can make a big difference. Check it out.
In addition, take a look at my updated kitchen below with vaulted ceiling. It is filled with many creative and affordable elements that should inspire you to create a space that reflects your personality. It was once a ho-hum kitchen with white walls, all white cabinets with doors on, and few wall decorations.
Take a look at some of the changes and see if they give you a few kitchen decorating ideas…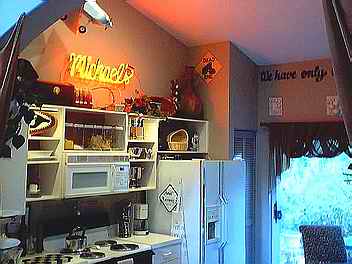 Cabinet Magic
The doors were removed from the cabinets to create a display area and to add depth. You may also notice that the back interior of the cabinets closely matches the color of the walls. That's not paint...
Instead, very coarse paper was attached with double-sided sticky tape to create a richly textured background for displaying dishes, glasses, and other kitchenware. (Note: The coarse paper comes in 18" X 30" sheets and can be found in art supply stores. High quality wallpaper will work as well, but it will be tougher to remove.)
Finally, picture frame lights were attached to a couple of cabinet sections to complete the transformation to display shelves.
When lit, the cabinets and their contents take on a very elegant and warm appeal.
Accessories Are Key
To make your kitchen truly irresistible, you'll want to create the right ambiance. If you have an open-plan design where your kitchen and living room are connected, you'll want them to have similar warmth and charm.
You won't have to spend lots of money to set the mood you want. You can achieve a lot with a bit of paint, a few kitchen decorating accessories, and your own imagination.
Your kitchen decorating display options can include collectibles, china, antiques, and anything else that matches your personality….even airplanes!
But avoid the temptation to display too much…
Select only a few of your very best items and store the rest out of sight. Line your items on the shelves in artful vignettes, just as you would if they were in your living room.
The Neon sign and airplane add a retro flair to my Eclectic kitchen. Assorted baskets sit atop the cabinets to add charm. If you'd like a few more retro decorating tips, click here.

Many people make the mistake of thinking that certain pieces should only be placed in certain rooms. But the truth of the matter is there are no such home interior decorating rules. Your kitchen should feel as homey as your living room.
If you think a particular sculpture or group of figurines will give your kitchen life, I say go for it.
In my home, the kitchen is the most popular room. I enjoy entertaining, and so my friends always gravitate there because it has a cozy and fun feel to it. Look for containers, bowls, serving dishes, etc., that have intriguing designs and shapes, and that capture your imagination. Of course if you're in the market for the basics, you'll find everything from fancy flatware to furniture.
Like every room in your home, your kitchen should have a few interesting kitchen decorating accessories that reflect your personality. Take a risk!
Before I move on to the Do-it-Yourself Ideas below, let me say that YOU really can create beautiful spaces that match your personality as long as you are provided with the right tools. Sure photographs help, but knowing the little nuances is what makes everything come together in the way that you want.
So, if you find yourself struggling to get your kitchen decorating project started, I suggest that you consider The Awaken Your Interior Designer! Collection. These interactive eBooks walk you step-by-step through the decorating process and will give you the knowledge and inspiration to makeover your kitchen or any room with confidence.
Do-It-Yourself Ideas
The picture below shows a small eating area inside this open plan kitchen. The dining table along with the alligator chandelier above it, create an eye-catching focal point.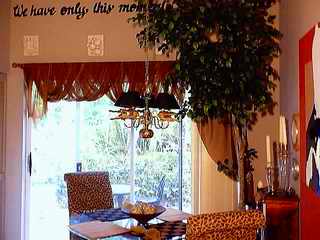 The 9 foot silk ficus tree underscores the importance of this area and makes it a cozy place for meals, snacks, and chats.
Try these do-it-yourself kitchen decorating ideas to save money and show off your own creative style:
Build Your Own Tree:   It's not as hard as you think. I purchased the natural tree trunk and the silk leaves/branches from a specialty store.
Next, I visited my local hardware store and bought Plaster of Paris and a plain plastic 5-gallon bucket. I prepared the plaster as instructed and set the tree trunk in it until the mixture hardened. (Note: To ensure that the tree trunk would stand straight, I used wire and a ladder to support it until the plaster solidified.)
With a little help from a friend, I placed the tree trunk and hardened plaster in a large decorative wicker basket.
I filled all but the top of the basket with crumpled newspaper and then overlaid Spanish Moss. The tree trunk and basket were then moved to the desired position in the kitchen.
In order to attach the leaves/branches, all I needed was a drill, glue gun, and glue sticks.
Starting at the top of the tree, I drilled a hole in the trunk, being careful not to drill all the way through. I applied glue to the end of one of the branches and inserted it in the hole.
Also, because the branches were flat when I got them, I had to bend them so that they mimicked a real tree. (Note: When building your own tree, it's a good idea to periodically view it from across the room, just to make sure you are on track.)
Give An Outdated Chandelier A New Look:   This was an interesting kitchen decorating project. But, creating the alligator chandelier was even easier than building a tree. The prior owners of the home had taken down a chandelier in the living room and replaced it with a ceiling fan.
The chandelier simply sat in my garage gathering dust…
So on a trip to an alligator park (I live in Florida), I was chatting with a friend who suggested that I attach little alligator heads to the chandelier.
I loved the idea immediately and purchased five souvenir heads from the gift shop. I drilled a hole in the base of each head and slid them over the light posts.
To finish the chandelier, I sat miniature lamp shades on the light bulbs above the alligator heads. (Note: The chandelier replaced an existing lighting fixture, so no electrician was needed.)
Create Your Own Crafts: Many times you can spice up your kitchen by taking those flea-market finds and using simple techniques to turn them into decorative treasures. I did that with several items in my kitchen.
If you'd like some inexpensive do-it-yourself kitchen decorating craft ideas for accessorizing your kitchen, I recommend that you check out the book, Quick & Stylish Decorative Crafts.
Finally, if you're thinking of adding a bit warmth and charm to your kitchen decorating project by replacing the counter top, click on this link to learn more about the various surface types... Tips For Selecting The Perfect Kitchen Counter Top

Finally, if you could use even more kitchen decorating ideas and inspiration, check out this video. The interior designer to a 1950's era kitchen from drab to dramatic for under $500.
I hope these kitchen decorating ideas have been helpful.

If you'd like to explore additional resources related to this topic, check out the following resources.
Also, do you know someone who could benefit from this article? If so, please click on the Facebook and Twitter buttons below to share.
Related Products - Kitchen Decorating Ideas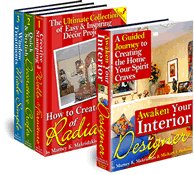 (1) *NEW* The Awaken Your Interior Designer! Collection - Brought to you by Home Decorating Made Easy, this first of its kind collection of interactive guidebooks is filled with lots of great kitchen decorating ideas. Create the warm, inviting kitchen of your dreams easier and faster than ever before without spending lots of money.

Click here to return to the home page to get more help with your
home decorating!