Fabrics for Kitchen Curtains by Decorating Style
______________________________________________
_______________________________________________
The kitchen curtains in a home are decorative elements that can date it quickly as trends change. Certain styles can also create very contrasting impressions depending upon with which decorative components from various styles they are paired.
It's the characteristics of the fabric itself that determines whether the curtains you prefer will be a suitable match to work effectively with the overall theme of your kitchen.
Changing your kitchen curtains is an easy way to update your kitchen. There is nothing like freshly hung new curtains to give your entire kitchen a quick facelift. This redecorating idea also rates favorably in the affordability category.
If you do any sewing at all you may be able to spend less money by making your own original designs in kitchen curtains. There are many uncomplicated styles from which to choose.
If sewing isn't in your niche or you don't have time to make your own kitchen curtains you can still have new ones at an inexpensive price.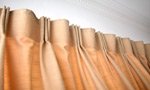 Visit yard sales, flea markets and thrift stores and survey the availability of secondhand fare.
You may be able to find exactly what you like in something that has been slightly used.
If you're looking for vintage kitchen curtains and find them only to be disappointed by an aged stain on them barter for a reduced price and buy them. Don't put them in the washer, but place the area that is stained on a flat surface.
Squeeze fresh lemon juice onto the stain, sprinkle with salt, and dry in the sun. After drying, use a soft brush to remove remaining salt. This natural method of bleaching antique linen kitchen curtains will remove most old stains. For very resistant stains simply repeat the process until the stain has faded completely.
Distinctive qualities in fabrics for kitchen curtains
Instead of shopping strictly based upon first-sight appearances alone, try shopping from a perspective that also makes note of the textures of the fabrics used as well. The texture of the fabric or other material from which your curtains are sewn or manufactured is as important as the color and the design. Textures are also as important a factor to consider if you're looking for fabrics and other materials in solid colors.
These ideas about fabrics and other materials for kitchen curtains offer an understanding of how texture plays an important role in defining a room's décor. Keep them in mind as you're shopping to ensure that you are able to create a balanced theme throughout your décor.
Fabrics for kitchen curtains categorized by decorating style...
Contemporary - gossamer sheer fabrics accentuate here by allowing light. Gauzy cheesecloth and dated or distressed muslin are suitable choices. Neutral burlap also provides an unpretentious decorative appeal to this uncomplicated style.
Country - standard denims work well. Pressed with starch, they add a desired feeling of pristine crispness to this comfortably warm style of décor. For a lighter look in country kitchen curtains, calico fabric adds an abundance of airiness to the room.
Traditional - fabrics of intricate design such as toile enhance this style. Create a dramatic effect by using complexly weaved plaid or sophisticated chintz.
Tropical - manmade micro fiber fabrics are perfect here. Jacquard polyesters create the appearance of animal skins while woven corded rayon provides a natural backdrop created by kitchen curtains in a tropical décor.
Tuscan - blends of classic natural fabrics with emerging synthetics. Technology has born original fabrics created by blending fabrics such as wool, silk, cashmere and velvet with modern materials to give us vibrant fabrics that require minimal care.
Finally, the most critical part of choosing curtains is to ensure that they will fit the window(s). So, it's important that you take accurate measurements. This short video will teach you how.
It's not stated in the video, but you should hang the curtain rod at least 6 or more inches above the window.
For more information related to this topic, check out the resources below.
More Home Decorating Ideas - Recommended Reading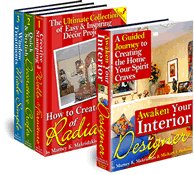 (1) The Awaken Your Interior Designer! Collection - Brought to you by Home Decorating Made Easy, this first of its kind collection of interactive guidebooks is guaranteed to help you decorate any room in your home faster and easier than ever before. You'll find lots of interior decorating ideas to create unique spaces that fit your family's lifestyle without spending lots of money.
I hope these ideas about kitchen curtains have been helpful. Click here to go back to the home page for more great home decorating ideas!