Kitchen Paint Ideas - Warm and Stimulate Your Space
There are plenty of
kitchen paint ideas
you can choose from to transform your kitchen into the exact look you want. Of course, choosing the perfect paint color isn't something that is going to happen overnight.
You need to take your time when choosing a paint color. If you make impulsive decisions you may later end up regretting the color you chose.
If you are not sure what colors will look good, look for kitchen paint ideas by starting with color basics.
Visit your local paint or home improvement store and select swatches that represent every color of the rainbow: violet, indigo, blue, green, yellow, orange and red.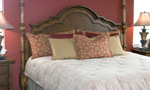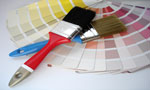 Tape the swatches side by side on a wall. You will notice that each color gives the kitchen a different look and feel. The video below will show you the exact approach you should take for testing colors before choosing the right one.
There's certainly no need for you to apply a bunch of paint splashes all over your walls. After all, you may have guests over or it could be weeks or months before you get around to the painting project. On the other hand, you really shouldn't base your decision by staring at a bunch of little paint swatches for two minutes, either. Instead, try one of the easy techniques shown in the video.
Right away you should be able to eliminate colors that you feel don't coordinate well with the colors in the other rooms that connect to your kitchen.
Once you have narrowed down your color choice to 2 – 3 colors, it's time to take your kitchen paint ideas into careful consideration by looking at all the different hues for each color you picked.
Select an assortment of the shades you like best and put these on your wall as well. Carefully observe the colors during natural daylight.
The most common colors considered for kitchen paint ideas include warm shades of yellow (IE. pale yellow, lemon, butter, sunshine yellow) orange (IE peach, terracotta, pumpkin, rust) and red (IE. ochre, alizarin, chestnut, puce, dusty rose).
Monochromatic color schemes (the use of neutrals) are also popular for the kitchen. If you want to keep things simple by going neutral, you may want to consider painting your walls a warm shade of white, taupe, brown or beige.
**************************************************
**************************************************
Neutrals help to pull all colors together and will blend in well with cabinets, countertops, and appliances regardless of their color.
If you have a small kitchen, using warm colors may be too much energy for such a small area. Therefore, good kitchen decorating for small areas is to create a stimulating yet relaxing environment.
This can be achieved by painting the walls with a blue paint that features red undertones. Although you wouldn't see the actual red color through the blue, the invisible undertones would be present within the space.
Here is a great video that is sure to give you some ideas. In the video, you'll see how a kitchen was entirely made over for less than $500 using paint. The interior designer not only painted the walls, but she painted the kitchen cabinets and countertops. I think the end result is impressive and stunning.
In the video, I'm sure you noticed toward the end where she talked about using a painting technique called rag rolling to add some texture to the walls. You can learn a bit more about this technique by watching this video on how to do it.
Finally, don't forget to use your local restaurants to give you kitchen paint ideas. The best way to observe a restaurant's colors is to eat before you go and only order a cup of coffee or tea.
What you will likely discover is that restaurants use tones of red, yellow and orange in their tablecloths, seats and pictures; colors that help to increase the appetite.
They will use these warm colors with softer tones of blue and green and neutrals for the floor and walls to encourage a relaxing atmosphere.
The environment of a restaurant has been carefully designed to create the right mood and appeal. Visit more than one to get different kitchen paint ideas.
For more information and ideas on this topic, check out the resources below. Also, if you know someone who could benefit from these tips, please click on the Facebook and Twitter buttons below to share.
Related Products - Home Interior Decorating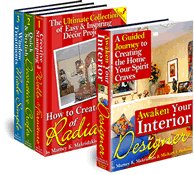 (1) *NEW* The Awaken Your Interior Designer! Collection - Brought to you by Home Decorating Made Easy, this first of its kind collection of interactive guidebooks is guaranteed to help you decorate any room in your home faster and easier than ever before. You'll find lots of interior decorating ideas to create unique spaces that fit your family's lifestyle without spending lots of money.

Click here to return to the home page for more home decorating ideas. To share these kitchen paint ideas, click on the social buttons below.