How to Spice Up Your Kitchen
When it comes to decorating, the kitchen is often a hard room to tackle. Many people feel that when you redecorate this room, you have to go all out on a big project.
But there are also small projects that can give this frequent gathering spot a much needed facelift while not turning into long, treacherous budget breakers.
One such small project is to go green. Adding fresh herbs can give your kitchen a new look and add a little zest to your cooking as well. Especially if you have a window in the room, growing herbs can add a nice decorative touch.
It brings a little of the outdoors through the window and into your room. Decorating with herbs can also supply your cooking with fresh flavors in all seasons.
Window planters make lovely herb gardens in a window area. Sunlight through a window can create the perfect atmosphere for all sizes of planters.
Dill, oregano, basil or just about any other common fresh herbs do very well in window planters. They will also make your kitchen smell pleasant and aromatic.
Hanging plants can soften kitchen corners while adding a little green to the room as well. Many of the same herbs mentioned for window planters will also thrive in well-lit corners of the room.
In darker corners these herbs may be a bit more challenging and grow smaller, but don't be afraid to give them a try and see what works with your particular situation. Mint varieties often do well with a little shade, so you may give these a try.
Counter tops can also be perfect spots for small potted plants. Catnip, rosemary, and lemon balm are fairly easy to grow in pots and will give your kitchen a welcome splash of the outdoors. A small fluorescent light over a counter works well for growing these potted herbs.
Dried herbs and spices can also be their own source of decoration. Red and green peppers hung by their stems make a colorful addition.
And it is a perfect format for drying these peppers fresh out of your garden.
Just take a sewing needle and string a piece of thread through the stem of each pepper. Stringing them up this way on a single thread allows air on all sides of the peppers to help them dry evenly.
When you are ready to use one of these dried peppers, cut it off of the thread by the stem and use scissors to cut the dried pepper into tiny pieces for use in your cooking.
Spice racks come in hundreds of varieties and can be a nice touch or even a focal point. Spices can be displayed in everything from baby food jars to fancy spice racks, and you can find just about any kind of containers you want in a store or online. I've seen someone use test tubes with cork stoppers as a spice rack.
What an interesting conversation piece that added to their kitchen. Another friend keeps her spices in small decorative tins with magnets on the back attached to her refrigerator. This keeps her spices on hand and easy to sort through.
So the moral of the story is next time you want to add a little flavor to your kitchen, pull out the herbs and spices and decorate!
I hope these decorating ideas have been helpful.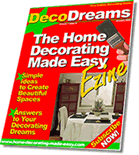 Is having a warm, inviting home important to you? Then why haven't you grabbed your copy of DecoDreams, our FREE e-zine? Inside you'll find unique ideas and lots of time and money saving decorating tips. So do your family, your home, and yourself a huge favor...Sign-up today!


And if you'd like to explore some great books on this kitchen decorating, please check out the recommended resource links listed below.
Recommended Reading - Kitchen Decorating Books
(1) Kitchen Decorating Ideas and Projects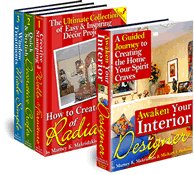 (2) *NEW* The Awaken Your Interior Designer! Collection- Brought to you by Home Decorating Made Easy, this first of its kind collection of interactive guidebooks is filled with lots of great kitchen decorating ideas. Create the warm, inviting kitchen of your dreams easier and faster than ever before without spending lots of money.


I hope you've enjoyed these ideas for your kitchen. BACK to the home page for more great home decorating ideas!