Kitchen Colors - Expanding the Spectrum
_________________________________________
_________________________________________
If you're a fashion conscious individual you may already know about trends in kitchen colors as well.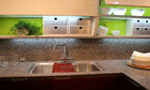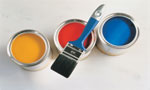 Color Marketing Group and Pastone Color Institute, the same two predictors and indicators of colors in fashion also forecast trends for other industries.
So this explains the pale peaches and pinks in products from ladies' lingerie to kitchen colors for appliances. It's also a valid explanation for why so many of us wore bright greens, oranges, and yellows mixed with a sensible brown in the late 60's and early 70's.
The kitchen colors in our homes were the same. Remember, your mom's new golden-harvest refrigerator, avocado stove, and copper-tone washer-and-dryer combination? It was probably at that point in life that we realized the importance of the perfect color combination.
After all, our moms talked to everyone about their new kitchen colors and were careful to explain that avocado is not green, harvest-gold is not yellow, and copper-tone certainly is not brownish-orange.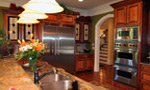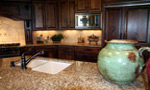 Another example of how combinations of kitchen colors are also reflected in other industries. Consider electronics... silver and black are the dominant colors.
In the 90's electronics were primarily black, trimmed with silver. Notice that the reverse is true today with silver being the primary color of the product with black for the trim.
You'll also notice that compact is in and bulky is gone. Collections of colors reflect minimalism and simplicity in style.
Many color palettes for kitchens have all but left out the true primary shades of red, blue and green for this specific reason. These colors create to bold, ABC block-like images, which are bulky and cumbersome... even sometimes overbearing and constraining.
Current colors for kitchens feature shades and hues that are comforting. In previous periods, we would have considered them only appropriate for bedrooms or bathrooms.
True pinks accented with cherry blossoms would never have crossed our minds. Caribbean Blues might have worked for mom's bedroom, but that shade would never have been heard from her kitchen colors vocabulary.
Funny how time has a way of changing things... simple things like suitable kitchen colors or at least the way we look at them. Today we embrace and put down our money for color schemes that we would have thought of as downright trashy or simply laughable in the past.
Discover trendy combinations in kitchen colors like a kid mixing watercolors. Experiment a little... you'll know for sure when you've found the absolutely perfect shades for you. You'll feel like you're seeing them for the very first time in their true light.
Innovation In Kitchen Colors
Brighten your kitchen with any of these refreshing color combinations.
- Aqua-blue cabinets with black countertops. Mix in paler blues and sea greens for additional compliments.
- Coral cabinets with gray countertops. Touches of peach and black add contrasts to this combination.
- Champagne cabinets with tan countertops. Use accents in cinnamon, sage and pale yellow to broaden this neutral scheme.
- Whitewashed cabinets paired with sea blue trim create a feeling of space. Mix in darker shades of nautical blue and light grey for additional accents.
Finally, if stone is a part of your kitchen design, such as with a granite kitchen island or countertop, you can pull one or of subtle colors embedded in the stone and use it as inspiration for your remaining design.
For more information related to this topic, visit the following links.
More Home Decorating Ideas - Recommended Reading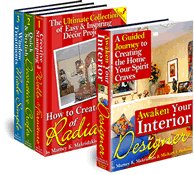 (1) The Awaken Your Interior Designer! Collection Brought to you by Home Decorating Made Easy, this first of its kind collection of interactive guidebooks is guaranteed to help you decorate any room in your home faster and easier than ever before. You'll find lots of interior decorating ideas to create unique spaces that fit your family's lifestyle without spending lots of money.
Click here to go back to the home page for more great home decorating ideas! And to share these tips about kitchen colors, click on the Facebook and Twitter buttons below.