Kitchen Decor Ideas That Can Freshen Up That Tired Looking Kitchen
Try these kitchen decor ideas below for creating a fresh new look for your kitchen.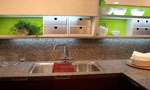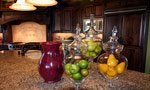 There are some simple touches that you can add to your kitchen that provide an accent to the decor. Kitchen decor ideas do not have to be complicated or expensive.
One of the coolest kitchen decor ideas for adding a new touch to your kitchen is to use rub on lettering. These lettering designs allow you to write words on the wall that add a little decorating touch and get a message across to all those that enter your kitchen. One example of this is to write the word "love" in many different languages along one wall.
These lettering patterns are available in many different fonts. You simply need to select the font style that best suits the style of your kitchen and the message you are hoping to get across to guests. There is no end to what you can do with this decorating accent. You are only limited by your own imagination.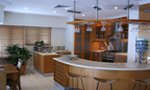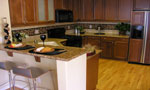 When applying these words to your wall you should select the message that you want to convey and then select the font and color of the lettering and then apply the letters to a screen.
By creating your image on a screen you can get a look at what they will appear like and touch them up if you desire or change them completely. When you are satisfied with the look of the lettering, then you can apply it to the desired area of the kitchen wall.
It only takes moments to attach these letters to the wall. In minutes you have a sophisticated new look on the wall. One of the kitchen decor ides that you may want to consider is painting the walls with a tan finish that is textured and then add words throughout the room that are your favorite foods in Italian or French. This brings an old world theme into your kitchen and can set the tempo for the dining room and other areas as well.
The bistro theme for the kitchen is becoming very popular. There are several different levels of bistro kitchen decor ideas that you can approach this decorating style on. You can make this as simple or over the top as you like. The biggest thing that will probably affect this is your budget.
It is possible to achieve the old world appearance inexpensively. After all, the entire typical bistro is a small and quaint place. You can add a new touch by simply adding a different style of table to the eating are. There are any number of thick butcher block islands that can be a great touch as well.
If you have a bar or seat up counter in the kitchen then you can change the stools to wrought iron stools. There are also numerous styles of borders that be added to the walls upper edge that will help accomplish that bistro appearance. A wine rack can help achieve that look as well. These are just a few kitchen decor ideas of what you can do to freshen up the look of your kitchen.
More Kitchen Decor Ideas - Recommended Reading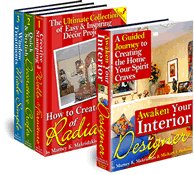 (1) *NEW* The Awaken Your Interior Designer! CollectionBrought to you by Home Decorating Made Easy, this first of its kind collection of interactive guidebooks is guaranteed to help you decorate any room in your home faster and easier than ever before. You'll find lots of interior decorating ideas to create unique spaces that fit your family's lifestyle without spending lots of money.
Visit this link for ideas about colors to paint a kitchen. And click here to go back to the home page for more great interior decorating ideas!