Vibrant Interior Decorating for Kitchens
Interior decorating for kitchens involves making many personal decisions, keeping in mind that the kitchen is one of the most used spaces in your home.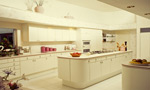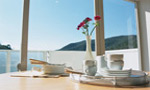 Every member of the house is going to be using this space at some time during the day.
However, being the most used space can help you with ideas for interior decorating for kitchen. It can be used as a cozy, family-oriented room for you and your whole family to enjoy; or can be used as a well-tuned, sleek cooking area with everything in its place.
If your family is a fast-paced, always on the go group, then you will want your kitchen to be decorated in a way that is as fast paced as your family.
Use utensils you already have, hang them as decorations on the walls, eliminate the need to search for that egg-beater or colander while trying to make dinner in the half hour between sports practices.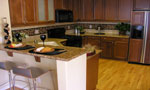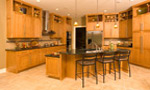 When hung on hooks, in groups or arrangements, these every-day items can really become works of art.
As you can imagine, this catches the attention of children, allows them to feel that the kitchen space is a "fun" area, and lets them relax and feel "at home" in this area.
In this style of interior decorating for kitchens, the utensils that you use every once in a great while are put to use on a daily basis, as the decorations themselves.
Another great idea for interior decorating for kitchens of busy families is to simplify whenever possible. This style is very simple, there are very few things sitting out on the counters, clutter is almost non-existent.
Every pot and pan, every fork and serving spoon, every toaster oven and coffee pot has a place. As you can imagine, one major benefit of this style of interior decorating for kitchens is that it looks so clean.
When a guest comes over for an afternoon cup of coffee and chat, she will be impressed with your immaculate sense of style and class. Another major benefit of this style is that everything is where it is supposed to be when it is needed.
When the kids come in to make their after-school snack, they know exactly where the peanut butter and bread are.
This allows everyone in the family to rest assured that the exact thing they need is going to be where it is supposed to be, and leaves you with a sleek, stylishly designed kitchen.
Whichever style you choose to implement in the interior decorating for kitchen, the most important thing to keep in mind is the style and personality of your family.
They are the ones who are going to be using the space and they are the ones who need to enjoy it and live in it on a daily basis. So decorate as a family, enjoy your beautiful new kitchen, and enjoy the time spent around the kitchen table, no matter how it is decorated.
I hope these interior decorating for kitchen ideas have been helpful. If you'd like to learn more about this topic, check out our recommended reading below.
Interior decorating for kitchens - recommended reading
Interior decorating for kitchens and more in...The Awaken Your Interior Designer! Collection - Brought to you by Home Decorating Made Easy, this first of its kind collection of interactive guidebooks is filled with lots of original decorating ideas. Create the warm, inviting kitchen of your dreams easier and faster than ever before without spending lots of money.



Visit this link if you could use some dining room interior design tips.
BACK to the home page for more great home decorating ideas!