Easy Kitchen Ideas And Affordable Redecorating Tips
___________________________________________
___________________________________________
While your friends are reading fashion magazines, your favorites are those with kitchen ideas for updating your home. You long to redecorate your kitchen. They're raving over the latest designer duds as you lovingly view photos of dream kitchens.
It never ceases to amaze you that each design in kitchen decorating ideas has something new. Where do these people get all their inspiration?
Even more so, you wonder how you can possibly afford today's innovative kitchen ideas for yourself. Each of the inspiring photos you see comes with a pretty hefty price tag... one so far above your budget that you resign yourself to looking and admiring.
Take heart...many of today's trendy kitchen decorating ideas don't have to cost a fortune. With a little ingenuity and an adequate amount of elbow grease, you can stretch even a shoestring decorating budget much farther than you probably think you can.
Do-it-yourself kitchen ideas for cabinets and drawers.

Paint, whitewash, or stain the doors and fronts of drawers.

Apply self-adhesive wallpaper inside the trim or molding.

Stencil a design on the fronts of doors and drawers.

Decoupage doors and drawers with favorite photographs.

Attach decorative objects with a hot glue gun.

Change handles and/or hardware.
Some trends in kitchen ideas feature cabinets on which the doors have even been removed. This creates a very open-air feeling and is a great way to show off your kitchen wares and favorite dishes. It also helps you stay clutter-free. In other words, you won't be able to just stash things in your cabinets anymore.
Inexpensive kitchen ideas for floors.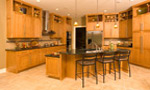 Install square linoleum tile yourself. It's typically sold in boxes of at least 12 squares.
The squares are self-adhesive so it's easy... similar to putting together a puzzle except the pieces match easily. A flooring knife or other similar tool can be used to cut tiles for corners.
One of the easiest kitchen ideas for floors is to use a rug. Rugs come in all shapes, sizes, and designs, providing inexpensive quick fixes that can completely change a room.
Check with carpet outlets and remnant shops, particularly if your kitchen is small. For just a little money you may be able to find leftover odd carpeting that will cover your entire floor.
If you're up to the task, perhaps some of the most original kitchen ideas in flooring require refinishing the floor. You can strip, sand, stain or paint your floor. You can even base your entire color scheme around the color you choose for your floor.
Affordable kitchen ideas for walls.
There are wallpaper designs of every kind you can imagine. Today's self-adhesive wallpapers make for easy installation. However, using wallpaper is more expensive than using paint. It's also more expensive to change or replace.
If there is a wallpaper design that you simply must have, try using it sparingly. Often in kitchen decorating ideas you'll find that a little can indeed be a lot, especially if the wallpaper is a busy design. You can use paint the walls and use your wallpaper for a border.
Another idea is to use the wallpaper to cover the door on a freestanding cabinet. You could even use the wallpaper to cover an old canister set to incorporate that particular design into your scheme.
Take a closer look at current trends in kitchen ideas if you think that paint is boring. Pink and peach have become Cheeky, silver and gold have fused to give us Champagne; blues have gone retro with advancements in color technology.
The drab, old school of Institutional Green has been replaced with the illumination of Soda Green, definitely not your traditional color palette.
If you'd like more affordable ideas for making over your kitchen, while incorporating eco-friendly elements watch the following video.
For more ideas related to this topic, visit the links below.
Click here to go back to the home page for more great home decorating ideas! Do you know someone else who could benefit from these kitchen ideas? If so, share this page with them by clicking on the Facebook and Twitter buttons below.