Retro Decorating Tips for the Modern Decorator
___________________________________________
____________________________________________
Retro decorating tips are being seen more and more in today's world. Everything old is new again eventually, and it seems that modern decorators really enjoy bringing back the previous eras and revitalizing them with a new spin.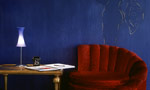 When decorating with a retro theme, you first need to decide which era to recreate.
This has a great deal to do with what era you grew up in as well as what era fascinates you personally.
Most of the retro decorating tips that are surfacing today come from a modified version of the 1970's area...
They include fluorescent colors set off with a black light and set behind bead curtains. This era is a very free-love atmosphere, with large peace signs and daisies commonly used. You could use these things as highlights to a basic family room or you could have a separate room decorated exclusively with these retro decorating tips.
The walls of your room could be painted with large peace signs and daisies, either from stencils or free hand. The designs could be painted in special black-light paint or simply in bright, fluorescent paints. The bead curtains can be used in a doorway or over a window as a window treatment.
To add to the retro decorating tips, make sure that the furniture is fitting to the era chosen...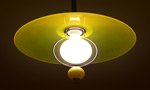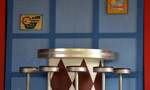 For the 70's room, you would definitely want to include vintage fabric covered sofas which would be bright lime green, bright orange, or a paisley fabric reminiscent of the era.
Added to this would be blow-up air chairs and beanbag chairs in groups or individually, of course in bright colors as well.
The TV would definitely have to be built into a console television set, or perhaps an old console with the screen removed and a fish tank inserted for entertainment.
Accessories always make the difference when deciding on retro decorating tips. The accessories finish off the room and pull everything together. As mentioned before, this would have to include at least one lava lamp. This could be used for light on an end table next to the beanbag chair, or simply for an entertaining decoration.
The phone would have to be an old Ma Bell rotary style phone. If you can find one that still works, plug it in and use it, all the better to pull off the retro atmosphere.
And of course, you cannot forget the record player spinning the old tunes. Records are dirt-cheap these days in any music resale shop. This will add so much fun and attitude to your retro room and is a must-have.
Whether you are creating one room or a whole house decoration plan, these retro decorating tips will help complete that space in style. It is so important to create a space where you will be comfortable, so don't allow the retro look to become a strict set of guidelines and rules you have to perfectly follow.
Now, if you could use a bit of inspiration, check out this video that beautifully captures the look of retro decor from the 1960's and 70's. Warning: It's a little risque. But you'll get some great ideas.
Enjoy your modern retro look and create your own unique style. For more information related to this topic, check out these resources.
More home decorating tips - Recommended Reading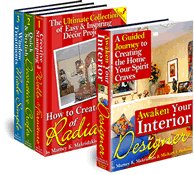 The Awaken Your Interior Designer! Collection -Brought to you by Home Decorating Made Easy, this first of its kind collection of interactive guidebooks is filled with lots of bedroom decorating ideas. Create the warm, inviting bedroom of your dreams easier and faster than ever before without spending lots of money.

Click here for more great ideas to help you with your home decorating! And if you know someone who would enjoy these retro decorating tips, click on the Facebook and Twitter buttons below.