Six No-Boundaries Kitchen Designs
__________________________________________
____________________________________________
There isn't a plan for any room in any house that can be more complex than those of kitchen designs. In the past, kitchens were the hub of activity in most families.
The larger the kitchen, the more activity occurred there. Formal dining rooms were reserved for Sunday's and special occasions.
Over time these trends in kitchen designs changed and kitchens became smaller. After all, more women became regular members of the workforce and didn't spend as much time in the kitchen.
The evening meal at the kitchen table became less a part of our normal routines. Instead, kitchen designs incorporated lunch-type counters and bars at which we sat on stools to eat dinner in varying shifts.
Just as with most decorating trends, kitchen designs seem to have come full circle to a certain extent. While formal dining rooms are often desirable and still included in many floor plans versatile eat-in kitchens have re-emerged.
This concept in kitchen designs doesn't signify an increase in the size of the average family. Instead, it has resulted from tried and true experience that people are connected and that those connections deserve validation.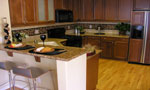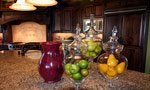 In other words, there's no better room for sharing than the kitchen. Reflect upon your own homespun kitchen memories.
With which of these intriguing kitchen designs can you most relate? Better yet, ponder which one will work best for creating your future kitchen memories.
Kitchen Designs And Styles
Contemporary - You may have been called a minimalist if this design appeals to you. Materials such as acrylics, glass, marble and stainless steel are dominant here for a very put-together or sleek and finished look in kitchen designs. A stainless steel kitchen island might be perfect for giving this style a nice pop. Contemporary designs have had a definite appeal for young professionals in recent years.
Country - If you have a sense of appreciation for simpler, less complicated living, then this might be your cup of tea. Country decor creates warmth and comfort in color schemes that mix earth tones with elements of primary color added. Additional rustic charm is added in country kitchen designs by exposed wood and weathered brick surfaces. Random used boards are often recycled to create interesting effects. Include a nice white kitchen island with seating to add and extra touch of comfort.
Traditional - Many of the houses in which we grew up had traditional kitchens. In fact, some of us thought this was the only type of kitchen. Traditional kitchen designs were often considered a mark of success. They feature vibrant woods in cabinetry, paneling and crown molding or trim. The handles on cabinet doors and drawers are very ornamental and usually gold in color. Polished brass is often used. Together these created an air of sophistication and accomplishment.
Shabby Chic - This decor is not inside the conventional scope of kitchen designs in general. It can however, borrow from each of the others a bit. If you're drawn to distinctive pieces, which most people call odd from places like yard sales, flea markets, secondhand stores, not to mention side-of-the road treasures, then you're already on your way. In this unique style, it's not the materials, textures, colors or patterns that matter. What does matter is the collective arrangement of the mix that unites it creating an original theme.
Southwestern - Kitchens incorporating Southwestern themed kitchen designs emulate the landscape of the dessert in color scheme. Just as tan and copper-colored hills are broken by the bright yellow cactus blossoms, natural materials in neutral colors are further enhanced by incorporating elements of fiery red and gingery orange.
Tuscan - For those who prefer to live as one with nature, the trend in Tuscan kitchen designs offers the desired accommodations. It incorporates the elements of the earth throughout the entire decor. Generous amounts of deep-toned, rustic woods are complimented by featuring natural stones and primitive metals in likewise generosity. Varying shades of lucid blue and gleaming gold run like ribbons literally lacing the theme.
For a bit of inspiration, watch this video to get a flavor for what's trending in kitchen designs.
Check out these resources for more information related to this topic.
More Home Decorating Ideas - Recommended Reading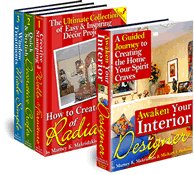 (1) The Awaken Your Interior Designer! Collection - Brought to you by Home Decorating Made Easy, this first of its kind collection of interactive guidebooks is guaranteed to help you decorate any room in your home faster and easier than ever before. You'll find lots of interior decorating ideas to create unique spaces that fit your family's lifestyle without spending lots of money.

Click here to go back to the home page for more great home decorating ideas! And to share this page about kitchen designs, click on the Facebook and Twitter buttons below.