Tips For Selecting
The Perfect Kitchen Counter Top
__________________________________________
___________________________________________
The kitchen counter top you select for your home is a matter of personal taste and function. Below is list of the most commonly used materials for kitchen counter tops and the advantages and disadvantages of each.
Feel free to combine different surfaces for a unique and exciting look or as a cost saving measure for your home interior decorating and design project. Notice in the photo below that the countertop surface of the kitchen island differs from that under the cabinets. Despite being different colors and materials, the countertops co-exist beautifully.
Kitchen Counter Top Options
Butchers block - is made from wood and provides a natural, warm look and feel. Thick butcher blocks are made of hardwood strips glued together. It is the ideal kitchen counter top for the cook who does plenty of slicing and dicing. Here are some other characteristics:
One of the most sanitary surfaces available
Nicks, cuts, and scratches give it character
Can be sanded down to remove blemishes and bacteria
Rub it down with mineral oil periodically to protect the finish
It is usually made from maple or beech wood
Avoid prolonged exposure to water
Glazed ceramic tile
- is made from natural clay and fired under extreme heat to harden. They come in a variety of decorative patterns and designs. Here are some other characteristics:
Heat resistant
Stain resistant
The grout between tiles will be difficult to keep clean
Can be chipped if hit hard
Laminate (formica and wilsonart) - is the most commonly installed kitchen counter tops in homes. Once damaged, laminate is almost impossible to repair, but here's why it is still a favorite among home builders and remodelers:
It is moderately priced
There is a huge range of colors, patterns, and textures
Resists grease and stains and will clean up easily with soap and water
Edges can be round or right-angled
Multiple style options
Hides scratches very well
Solid surface materials - typically comprised of acrylic or acrylic blended with other materials. You may be familiar with the brand name Corian. Here are some additional characteristics:
It is available in a wide variety of colors, patterns, and textures including simulated stone
Easy to clean
Non-toxic
Can be formed to have round or right-angled edges
Do not sit very hot pots on it
Can take minor scratches, but avoid it as a frequent cutting surface
Certain substances will stain it, but this can be repaired
Stone
- includes granite and marble. Marble is not recommended, under any circumstances, for kitchen counter tops because it can be easily stained by oils, alcohol, coffee, tea, wine, tomatoes and citrus products. Granite can be used for kitchen counter tops. Here are its characteristics:
Scratch resistant
Stain resistant
Won't crack
Hot pots and pans won't damage it
Clean up with warm water
Use a non-yellowing paste wax to preserve its brightness
Vist these links to learn more about
granite vs Corian countertops
and
granite versus quartz countertops
. Corian is a very popular brand of man-made solid surface countertops.
Stainless steel - tends to be a specialty kitchen counter top surface that works well where lots of water is used and near ovens or ranges. However, it will dent and scratch.
For more information and ideas related to this topic, visit the following links.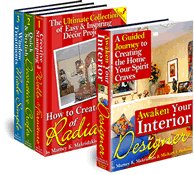 (1) The Awaken Your Interior Designer! Collection
- Brought to you by Home Decorating Made Easy, this first of its kind collection of interactive guidebooks is guaranteed to help you decorate any room in your home easier and faster than ever before. Create the warm, inviting kitchen of your dreams without spending lots of money.
Click here to return to the home page for more great ideas to help you with your
home decorating
. And do you know someone else thinking getting a new kitchen counter top? If so, share this information with them by clicking on the social buttons below.