Quick & Stylish Decorative Crafts
Learn the Simple Techniques for Turning Flea-Market Finds and Second-Hand Items Into High-End Decorator Pieces
(Incl. 275+ easy-to-follow color photos)
From: Marney K. Makridakis
Would you like to dress up your home, but can't see paying the high prices for expensive decorative accessories and furnishings?
If so, I may have the perfect solution for you.
You can use my easy craft techniques to turn outdated items and flea-market finds into dazzling treasures in no time at all!
You'll be able to fill your home with inspiring handmade décor for much less than regular retail prices. And while you're at it, you'll gain a tremendous sense of accomplishment knowing YOU did it all, yourself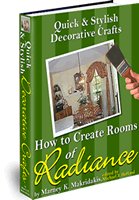 In my 118 page eBook, Quick & Stylish Decorative Crafts, you'll learn fabulous, easy ways to make over lamps, pillows, chairs, tables, sofas, and more! You'll see items that I display in my own home and sell at craft shows and galleries…and you'll learn my secrets for making them yourself.
You'll get 20 fully illustrated projects to use in the key areas of your home where a few well-placed decorative accents can make a dramatic difference.
I've also included 300 additional ideas for using the techniques shown in these projects throughout your home.
(Click here to see example craft projects that you can easily complete.)
But the best part about creating these home decor items is that you don't need any artistic skills or training. I love making it easy for you!
Just follow the 275 step-by-step color photos and instructions. And before you know it, you'll be creating custom accessories and furnishings at a fraction of what they would cost you to buy them new.
(Click here to see this volume's Table of Contents.)
But there are more great reasons for you to create your own distinctive accents using Quick & Stylish Decorative Crafts.
You'll know how much money you're saving compared to retail, because we give you close estimates. Incidentally, if you did each of these projects only ONCE, you'd save a hefty $6,200.
You'll save time because you'll get lots of my secret shortcuts and quick-fix tips that you won't find in other do-it-yourself books. You'll also get links to web sites so that you can quickly check out other resources and crafting products shown in the photos.
You'll be able to plan projects around your schedule because we tell you how much time each project takes to complete.
You'll customize your home because you'll have the flexibility to choose your own colors, patterns, textures, and styles to fit your décor perfectly.
You'll enjoy yourself. When such projects can be done so quickly and easily, there's just no reason why you shouldn't take a break and create something special for your home. The process will relieve stress and make you more excited about creating a joyful, uplifting home for you and your family.
Order right now and you'll also receive two exclusive bonuses.

EXCLUSIVE BONUS #1
Our eBooklet, Getting the Knack of Knick-Knacks: How to Effectively Arrange Your Mementos & Decorative Accents. Ever turn the pages of magazines or catalogs and wonder how they were able to perfectly group trinkets, vases, picture frames, etc., on side tables, coffee tables and display shelves?
Discover the simple techniques used by professional designers who get paid $100 per hour or more to provide this service! You'll be amazed as you transform your rooms in less than 10 minutes!
EXCLUSIVE BONUS #2
An extra 5% discount off ALL products offered by DecorateToday.com, one of the Internet's premier online stores. Their prices for wallpaper, fabric, window treatments and more are already up to 80% below regular retail. Plus, they provide FREE shipping within the continental United States. Click here for complete details.
Our Risk-Free
Satisfaction Guarantee
Our guarantee is simple. If, within the next 60 days, you don't feel that this eBook will provide you with inspirational ideas for years to come, I will give you 100% of your money back. Absolutely NO questions asked. The risk is ALL OURS.
So, Let's Get Started...

Quick & Stylish Decorative Crafts is available for immediate download.
The price for the eBook and bonuses is only $7.47. This is a small amount to pay for such an invaluable resource. Plus, you can easily recoup this amount by using the decoratetoday.com discount just once!

Your biggest fan,
Marney K. Makridakis