Italian Kitchen Decor - Bringing Tuscany To You!
___________________________________________
___________________________________________
With striking colors and attention to detail, Italian kitchen decor brings the warmth of Italy into your home--with antiquated appeal, Italian decor allows you to have an old-world feel to a modern setting.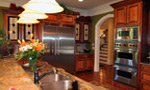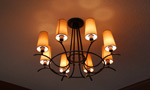 You can combine the best aspects of each, creating a setting steeped in color and function.
The traditional Italian kitchen contains certain elements to create an atmosphere of grace and historic charm.
With Italian kitchen decor, you bring out the best of your room, making it a place where people gather to speak and be merry.
This is not just a kitchen; it's a place for family.
The first rule of Italian kitchen decor is color. This style demands warm tones and passionate backdrops. Having a simple white wall with a border will never do. You need color!
Appropriate Italian decor calls for warm oranges, reds, greens and yellows. Your kitchen should be inviting, not stark. To add extra appeal, you can find Italian-style pottery or pictures with other colors to create a striking contrast. Italian kitchen decor's first principle is color; do not rely on whites and beiges.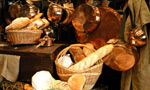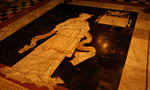 The next step in creating an Italian kitchen is to make every inch count.
Space is meant to be used; do not try to leave things untouched, thinking they seemed cluttered. Italian kitchen decor is meant to appear lived in.
This is a family room, not a showplace. That being said, an Italian kitchen will use every inch to create storage (some of it hidden). For instance, while hanging rails can be an excellent way to showcase high ceilings, they can also serve as ways to hang pots, pans or other things that would usually take up space.
Italian kitchen decor is about making a space work, while still looking good.
Another staple of Italian kitchen decor? Dark woods. This is not meant to be a steel and granite area; you should have dark woods for your cabinets, laced with designs and details. Italian kitchen decor demands craftsmanship, not streamlines efforts.
Italian kitchen decor truly lies in the details. Hanging greenery from the ceiling, place pottery on the cabinets, always having something enticing simmering on the stove or placing food dishes on the counters, filled with fresh fruits or vegetables, will only add to the overall appeal.
The key to a successful Italian kitchen is to create an atmosphere of invitation. You want your guests to come in and sit; you want your family to enjoy staying in to cook a meal together; you want to feel a little thrill every time you enter.
With Italian kitchen decorating, all of that is possible--you have created more than a kitchen; you have created memories to come. And what memories!
Your home will never seem more like one than with a Tuscan flavored room to add to the comfort. An Italian kitchen is the perfect way to create not only great meals, but great times. Experience the joy that can only be find in this appealing environment.
____________________________________________
____________________________________________
For more information related to this topic, check out the resources below.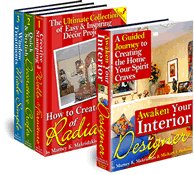 (1) The Awaken Your Interior Designer! Collection - Brought to you by Home Decorating Made Easy, this first of its kind collection of interactive guidebooks is filled with lots of decorating ideas. Create the warm, inviting bedroom of your dreams easier and faster than ever before without spending lots of money.


Click here for more great ideas to help you with your home decorating! To share these Italian kitchen decor ideas with others, please click on the Facebook and Twitter buttons below.