Kitchen Decor Themes Create the Heart of Your Home
___________________________________________
______________________________________________
Kitchen Decor Themes are so important because the kitchen is the heart of a home.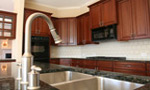 It is a gathering place for friends and family, and the source of memorable meals and festivities.
The most important aspects of kitchen decor themes are lots of open space, abundant counter space with durable, easily-cleaned surfaces, sufficient storage, a rugged floor that is both beautiful and can handle traffic and all kinds of food spills, and appliances that are efficient and easy to operate.
Kitchen decor themes require careful planning and imagination to achieve a kitchen that has great style and functionality.
The first thing necessary is a workable plan. Use blueprints and sketches to determine what you are looking for.
Use this as a guide for every step of your renovation. Decide on your colors. Color creates a mood and tone for everything in the room. Then find the focus of the room to give your kitchen décor theme personality. A focal point could be a window or a wall decorated to add definition and interest. Before you decide on your kitchen decor theme, do some research.
Investigate styles and trends. Learn what to look for when purchasing new appliances. Decide on the style of kitchen cabinets you want, and then design your kitchen around them.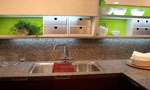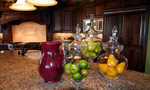 Many cabinets are based on the Colonial American design, which is handcrafted wood with flush insets, raised panel doors, hammered iron hardware, and visible pegs and dowels. Shaker style cabinets combine form and function.
The style is unadorned by any carving, trim, or fancy hardware, which makes it popular for many different kitchen decor themes, from country to traditional to contemporary.
Victorian cabinetry most frequently uses hardwood, glass front panels, and an interior wainscoting of narrow beadboard. The arts-and-crafts cabinetry style has a rough-hewn, organic look that uses heavy materials with bold horizontal lines. Asian style in cabinetry is created by flush panels, invisible hardware, and meticulously matched wood grains.
When deciding which style cabinetry to use, look at the rest of the home - your design should be a natural, logical extension.
Here are a number of kitchen design themes to choose from. The Vintage-Look Kitchen reproduces an antique kitchen using a variety of design elements to give the feeling the room has been around for decades. Use a dramatic black and white diamond tile floor.
Stained glass windows add a spot of color while maintaining privacy. The pattern in the tile floor can echo the panes of glass in the windows and the tiles used for a backsplash.
Appliances should be white to allow them to blend with white cabinets. Consider adding an Edwardian-style faucet as a surprising touch.
Another theme is a Home Sweet Home kitchen, designed as a space that also functions as a family room. It is ideal if it flows into a dining area.
This design is an intimate, cozy space where family and friends can gather and talk around the table and with the cook, leaving no one out of the conversation.
Using mellow wood tones for the floor, table, and chairs, along with a butcher-block counter creates visual warmth.
White paint on the walls, the brick fireplace, and the cabinets, will keep the room airy. French doors, antiques, and old pottery personalize the area.
Or maybe you prefer a bright theme. If you have a lot of bold colors in your home, it may be an acceptable theme for the kitchen. There are many other styles to choose from. Pick the one that best suits you and your family's personality.
Finally, for some additional kitchen decorating inspiration, watch this great video.
Kitchen Decor Themes - Video
I hope these kitchen decor theme ideas have been helpful. If you'd like to learn more about this topic, check out out recommended reading below.
Recommended book
Kitchen decor themes and a whole lot more in...The Awaken Your Interior Designer! Collection - Brought to you by Home Decorating Made Easy, this first of its kind collection of interactive guidebooks is filled with lots of original decorating ideas. Create the warm, inviting kitchen of your dreams easier and faster than ever before without spending lots of money.
BACK to the home page for more great home decorating ideas!