Kitchen Wall Decor - Time For A Fresh Makeover
Changing the kitchen wall decor can save money and still provide a fresh new look when looking to remodel your kitchen.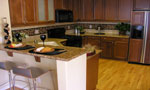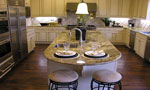 Some of the things that you can consider doing to get that new look and still save money is to reface your cabinets instead of replacing them, and paint or change the kitchen wall decor.
A fresh paint fob and borders can provide a new look without having to spend the high cost of a total kitchen renovation.
Changing your kitchen wall decor can provide a fresh new look that can change the entire style and mood of your outdated kitchen. Painting the walls is one easy way to accomplish this. There also numerous painting techniques that you can use that will provide a look that is unique.
A border all the walls upper edge or along the center of the wall, about 4 foot high can create a new look as well. Adding a border can be as simple as using peel and stick borders or you can use choose to hand paint it if your are adept at that sort of project. Hand painting it can be simplified by using stencils.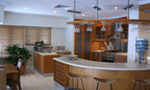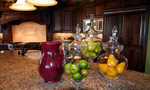 Peel and stick borders provide a relatively easy and quick way of improving the kitchen wall decor.
These borders are like using a large sticker and applying it to the wall. The good thing about these styles of borders is that they can also be easily removed and replaced without damaging the wall.
Since these borders are easy to apply and remove, you can elect to change the kitchen borders for the seasons. An example of this would be to use a border that is reminiscent of fall in the months of Sept and October and then changing to one that is more festive for the months of November and December. You can also place these borders only in small sections of the wall.
Another time that you may want to consider peel and stick borders is if you are preparing a property for renting it out. When redoing a place as a rental property you typically do not want to put a lot of money into repairs. These borders are an easy way to freshen up the kitchen wall decor of a rental property without cutting too far into your investment reserve.
You may want to simply paint the walls of the rental property and tell the renters that they can chose the border for the kitchen. This way you are allowing them to make the kitchen look the way they desire without giving them permission to paint. This also helps eliminate the mess and possible paint spills.
There are many different patterns, designs and colors that these borders are available in. The local home goods store will have something that will match the style and design that you desire for your kitchen wall decor. Most of these borders are extremely affordable and are not time consuming at all. The biggest challenge you may have is matching the pattern when you need to add a new piece to one already on the wall.
More Kitchen Wall Decor Ideas - Recommended Reading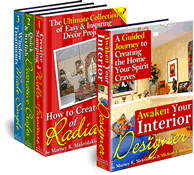 (1) *NEW* The Awaken Your Interior Designer! CollectionBrought to you by Home Decorating Made Easy, this first of its kind collection of interactive guidebooks is guaranteed to help you decorate any room in your home faster and easier than ever before. You'll find lots of interior decorating ideas to create unique spaces that fit your family's lifestyle without spending lots of money.
Click here to go back to the home page for more great home decorating ideas!