10 Home Decorating Ideas To Quickly
Update Any Room
________________________________________________
_______________________________________________
Not all home decorating ideas require a heavy investment of time and money.
If you're looking for a few affordable home interior decorating ideas to freshen up a room over a weekend, try these ten and also watch the video at the end of the article:
Rearrange The Furniture- Pull your furniture away from the walls. Try positioning it at intriguing angles. In the picture below, the sofa is arranged diagonally across my narrow living room. This makes the room look wider and provides a warm, inviting layout.
Paint A Wall- Paint one wall your favorite color and make it the focal point. Hang interesting art on that wall and move a nice piece of furniture there. (Note: Make sure that the color is one that is shared with several other objects and fabrics in the room.)

For extra impact, try using a rubber stamping technique on a wall. Stamping is extremely easy, but the results can be very impressive. Check out the book Creative Stamping for Walls & Furniture for ideas.

Bring In Plants- Greenery always adds a breath of fresh air to a room. If you don't have a green thumb, try silk plants and trees. The quality has gotten so good that its hard to distinguish them from the real thing.

                   

Lay An Area Rug- An area rug is a wonderful way of defining a conversation area. Try one that complements the room. Lay it at an angle beneath your coffee table.
Hang Pictures or Mirrors- Hang pictures that reflect your personality. Try frames that are more ornate. When hanging a mirror, try and position it so that it reflects and nice view or an interesting architectural element.




Group Figurines- Pull out your favorite collectibles. Show off your personality. Find a display area and group related objects together, in sets of three or five. Try and vary the shapes.
Add Decorative Pillows- The good news about decorative pillows is that they are an easy way to add textures and patterns to a room. Still better, they can be changed to jazz up a sofa or chair before your room is ready for a major makeover.
Replace Lamps- Lamps are probably the one thing in your home that will give others a clue that your room is outdated. Seek out new and fresh lamps that make a statement.
Add A Throw Or Afghan- Similar to decorative pillows, throws and afghans add texture to your furniture. They come in all kinds of natural and man made fabrics. Find a pattern and style that you like.
Eliminate Clutter- You'll hear me say this again and again. Clutter has a way of eliminating the desired mood and effect of any room. Find storage spaces for papers, toys, and other items that take from the personality of a room. Click on this link to learn more... Home Storage Solutions: Ways To Organize Your Home.


I hope these 10 home decorating ideas have been helpful. For some additional fast decorating tips, check out this video.
Easy Home Decorating Ideas - Video
If you'd like to review other fast and easy home decorating ideas by home-decorating-made-easy.com, click on one of these links:
Recommended Reading for Home Decorating Ideas - Books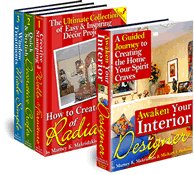 (1) *NEW* The Awaken Your Interior Designer! Collection - Brought to you by Home Decorating Made Easy, this first of its kind collection of interactive guidebooks, filled with tons of home decorating ideas, is guaranteed to help you decorate any room in your home easier and faster than ever before. Create unique and inspiring rooms without spending lots of money.

Click here for more great ideas to help you with your home decorating!