10 Festive And Fun Christmas Decorating Ideas
_________________________________________________
___________________________________________________
Looking for some great Christmas decorating ideas? If so, try the 10 suggestions below to add cheer and spice to your home. In addition, I've included a couple of great videos that will give you even more ideas for decorating the tree and the interior of your home.
And don't forget to let your kids join in the fun. Together, you'll create memories that will last a lifetime.
Christmas Decorating Idea #1
Go for a walk and gather evergreen boughs and branches to fill your home with a festive scent. Use them to decorate the mantle, staircase, and front door.
Decorating Idea #2
Consider a tree adorned only in white lights or completely bare - marvel at nature's perfection.
Decorating Idea #3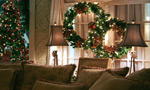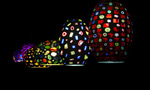 Group large pinecones in threesomes bound with ribbon. Hang them from doorknobs, stair banisters, or in windows.
Decorating Idea #4
Spread cheer in unexpected places, like the powder room. String white lights around the mirror and hang festive ornaments from the chandelier.
Decorating Idea #5
Keep a Polaroid handy and snap family and friends as they enter, or posed near the tree. Post pictures on a bulletin board that is covered with pretty gift-wrap.
Decorating Idea #6
Rhinestone brooches and clip earrings will enhance your Christmas decor. Use them to add sparkle to any table.
Decorating Idea #7
Nuts are traditional holiday favorites - use them decoratively. Hang walnut clusters from pretty bows and attach to boughs throughout the house.
Decorating Idea #8
Let school-age children decorate the tree all by themselves. Offer paper, scissors, glue, felt, popcorn, cranberries and ribbons. Provide help only when asked and make no adjustments to the handiwork. Then revel in their pride.
Decorating Idea #9
Fill beautiful bowls with oranges, pomegranates, or apples.
Christmas Decorating Idea #10
Create a tree of life - invite friends and family to contribute one ornament each to your tree. Don't worry about "matching" - instead celebrate the uniqueness.
Bonus: The Christmas decorating ideas don't stop with the 10 above. Check out this video that provides some tips on decorating your home's interior.
I like that she has a defined strategy for organizing how to determine which type of decorations you need and where they should go.
And if you like her approach to getting your home into the Christmas spirit, you'll love her approach to decorating your tree. Watch
Whether it be decorating your home or your tree for Christmas, I think the key is personalization. As you saw in the video, don't just use things simply based on the color or what happens to be on sale. Create a theme around what you love --- hobbies, interests, experiences, etc.


I hope these Christmas decorating ideas have been helpful. Please click on the Facebook or Twitter buttons below and share them with your friends.

And visit these links if you would like more information on Christmas decorations or Christmas decoration ideas.

Click here for more great ideas to help you with your home decorating!