Budget Decorating Tips For Making Over Any Room
_____________________________________________
______________________________________________
Budget decorating is always available for those who are seeking a change at half the cost, since not everyone can afford a complete makeover of their home interior.
There are many ways you can freshen up the rooms of your home; all you need is a little bit of spending money, the right bargain and creativity.
Budget decorating is about carefully analyzing the room(s) in question and deciding what it is you like and dislike about the room.
This is important because you need to know what it is you already have to work with, to give you ideas of how you can change or work these items into the new look you wish to create.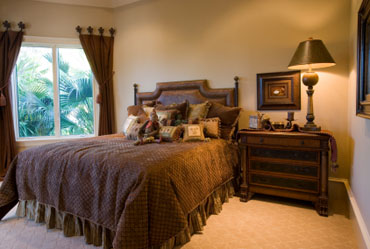 5 Great Budget Decorating Tips
Here are a few tips you can keep in mind as you brainstorm ways you can use budget decorating to change the look of your room(s):
Tip 1: Furniture - You shouldn't need to purchase any new furniture in the room you are budget decorating. If, however, you would like to add a few new small pieces such as a coffee table, night table, end table, etc.
You can always go to your local thrift store and find these items at reasonable prices. Another good place to consider are department or furniture store warehouses, who often sell furnishings at discounted prices due to flaws such as slight chips, scratches or dents.
When budget decorating, you can give your furniture a new look by either choosing to paint it, stain it, or refinish it. You may also wish to add a skirt cover to a small table to hide any flaws the furniture has that you can't cover.
As far as your couches and other upholstered sitting furniture is concerned, you can always create slipcovers to hide any stains or worn pieces of fabric.
Tip 2: Walls - Re-painting your walls shouldn't be too costly, as long as you shop around for paint deals. If however, you would like to do your budget decorating without having to take on such a task, you can always make or purchase stencils, and create a border from the design of your choice on the top, middle, or bottom of your wall.
Tip 3: Floors - Budget decorating with floors is another fairly simple process. If you have tiles on your floor, you may want to add stenciling to create a new pattern or design.
If, on the other hand, you have hard wood or wall to wall carpet on your floors, you can always hide any stains or worn patches by using an area carpet.
Tip 4: Decorations - Budget decorating accessories are easy to find depending on what you are looking for. If you go to your local thrift store, you are bound to find paintings, pictures, trinkets, clocks and a variety of other items that you can paint, or add your own personal decorating touch in order to fix them to your liking to match your room.
Remember the famous saying - "Someone else's junk, is another person's treasure" - don't be afraid to purchase second hand items, few people can tell the difference between them and a first hand item.
Tip 5: Change is a good thing - Now that you know how you can modify the look of your rooms with budget decorating, don't forget to rearrange and change the accessories in your rooms on a regular basis.
For instance, with the passing of each season, rearrange your furniture, put on new slipcovers, and change the paintings or other decorations, to keep the room different and inviting.
I hope these budget decorating ideas have been helpful. Click here to go back to the home page for more great home decorating ideas!