10 Home Interior Decorating Ideas To Wake Up Your Coffee Table
As you know, home interior decorating demands attention to detail if you want to create your decorating dream. One of those details is your coffee table, which is at the center of your conversation area.
Along with your area rug, it is the glue that helps to hold the pieces together. Because it commands so much attention, go the extra mile and transform your coffee table from a simple oversized coaster to a work of art. Try these 10 home interior decorating ideas:
Display Books- Display a few hardcover books that are interesting and have covers which tie into your decor color scheme. Preferably, the books should be the larger versions, but should not be too thick.
Add candles/candleholders- This is always a winner. If you have some intriguing candleholders, try those. Use at least two candleholders for balance.
Display A Decorative Box- I consider decorative boxes to be compact works of art. Find one that matches your style, but don't display a tiny box that will get lost on the table.
Display A Figurine Or Sculpture- Any eye-catching sculpture or figurine will make a wonderful statement as well as a conversation piece.
Display Flowers In A Vase Or Decorative Container- Place you favorite flowers in a decorative vase or display an arrangement of silk flowers. My coffee table below has a single white silk orchid in a miniature silver ice bucket.




Change Or Refinish The Table Base- If your coffee table has a glass top, change the base to jazz things up. I changed my base and used two large earthy pots. It worked perfectly.
Try A More Interesting Table- Try something unusual like an old steamer trunk or consider a table with and intriguing shape or design.
Display A Bowl Of Decorative Balls- The balls provide a three dimensional pattern and texture to complement your home interior decor.
Display A Basket Of Fresh Fruit- The basket will add charm to your conversation area and help to make it warm and inviting.
Keep Clutter Away- You don't really want a lecture on this one do you? But if you could use some help in this area, I recommend that you check out the tools and advice offered by Get Organized Now.
In order to wake up your coffee table, I recommend that you first consider the accessories that you have on hand. What unusual items do you possess? What are your favorite keepsakes?
In order for you to see some of the ways and techniques that you can use to decorate your coffee table, check out this video. Whether your coffee table has a glass top or is solid wood, you should find this helpful. Watch.
The key points that you should remember from the video when accessorizing and arranging items on your coffee table are theme, grouping, and balance. By theme, you'll notice that the items shared something in common whether it was color, material, or shape. The grouping were tight with an odd number of items. Finally, the items were displayed in a balanced way. Each side of the table was very attractive.


If you like more information and ideas related to this topic, check out the following resources. In addition, if you know someone who could benefit from this article, please click on the Facebook or Twitter button below and share.
Related Products - Home Interior Decorating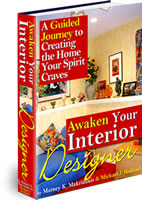 Awaken Your Interior Designer - This is the ultimate step-by-step resource for decorating your home. Forget about fancy theories. You'll learn to decorate faster by using interactive tools and following clear examples. See how we put this book to the test by using it to answer home interior decorating questions submitted by visitors to our Web site. You're in for a real treat!
Click here to return to the home page for more great ideas to help you with your
home decorating!