Creative Stamping for Walls & Furniture
Introducing a Unique and Easy Way to Give Your Walls and Furniture That Stunning
One-In-A-Million Look!
(Incl. 225+ easy-to-follow color photos)
By Marney K. Makridakis – Craft Designer, Writer, Educator
In the last few years, rubber stamping has boomed like no other art medium or craft technique.
Crafters all over the world are using rubber stamps and stamping products to create greeting cards, handmade gifts, and unique pieces of art with truly impressive results.
I've taught stamping classes for several years, so it seemed only natural to adapt these amazing techniques to walls and furniture. I've also loved decorating my own home with stamping and I know you will, too!
No Artistic Training Is Required
You don't need any artistic skills or training because rubber stamps come ready-made in thousands of interesting designs.
You don't even have to buy stamps, because you can make them out of household items…like kitchen and cosmetic sponges, wood blocks, and even potatoes!
But I must tell you that while stamping is EASY, it is has evolved into more than just slapping ink on a rubber stamp and then pressing it to a surface.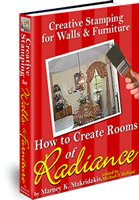 In my eBook, Creative Stamping for Walls & Furniture, I present a variety of techniques, media, and styles that can make you look like a seasoned professional with very little effort.
Your family and friends will say "WOW!", and mean it, as they admire your unique creations.
Your walls and furniture will come to life like you never imagined!
Stamping Versus Other
Decorative Painting Techniques
If you've been thinking about stenciling your walls, stamping is much faster. If you've been thinking about applying a faux finish, stamping can give you more dramatic results in less time. And if you've been thinking about hanging wallpaper, stamping is less expensive and it's much easier to change down the road.
Click here to see a few of the stamping designs that YOU can easily create!
In Creative Stamping for Walls and Furniture, I've opened my creative vault and given you many ideas and insights that I haven't even shared with my students.
You'll learn fabulous, easy ways to dress up your walls and furniture using 15 fully illustrated stamping techniques that you won't see anywhere else! Plus, you'll get 150 more ideas for using the techniques in your home décor.
Just follow the step-by-step photographed instructions, and before you know it, you'll be producing one-of-kind creations that reflect your unique personality and decorating style.
(Click here to see this volume's Table of Contents.)
Here's what else you get...
In addition to giving you the easy-to-follow steps you need to complete the projects, this 129 page eBook will also help you:
Save Money – Each of the 15 projects comes with a detailed supply list. The amount you spend on supplies will be a fraction of what you'd spend for premium wallpaper or to hire a professional decorative painter.

And the more projects you complete, the more money you'll save because many of the supplies may be used for other projects in the book.

In fact, you don't even have to buy rubber stamps to create magical stamped finishes. That's because I've included 12 unique designs and instructions for creating your own stamps.

Save Time – You get 225 step-by-step color photos and instructions that are designed specifically for you, the busy home decorator who would love nothing more than to decorate her home all day, but doesn't have the time or energy.

To save even more time, you also get over 150 links to web sites that offer stamping products shown in the photos.

Customize Your Home - By completing these special hand-stamped projects, you're creating one-of-a-kind finishes. You can personalize them even more by selecting different color schemes, stamp designs, and textures that fit your decor.

Enjoy Yourself – These projects offer you the opportunity to relax, listen to some nice music, and let your creative spirit splash around a bit. At the end of it, not only will you feel more relaxed and connected with your home, you'll have FANTASTIC results, to boot!
Order right now and you'll also receive two exclusive bonuses.
EXCLUSIVE BONUS #1
Our eBooklet, Home Is Where the Art Is: How to Select Artwork for Your Decorating Style. Do you have a difficult time deciding if a piece of artwork will work with your decorating style? Not any more! Now you'll have a handy reference to help make your decisions easy.
EXCLUSIVE BONUS #2
An extra 5% discount off ALL products offered by DecorateToday.com, one of the Internet's premier online stores. Their prices for wallpaper, fabric, window treatments and more are already up to 80% below regular retail. Plus, they provide FREE shipping within the continental United States. Click here for complete details.
Our Risk-Free
Satisfaction Guarantee
Our guarantee is simple. If, within the next 60 days, you don't feel that this eBook will provide you with inspirational ideas for years to come, I will give you 100% of your money back. Absolutely NO questions asked. The risk is ALL OURS.
So, Let's Get Started...
Creative Stamping for Walls & Furniture is available for immediate download.
The price for the eBook and bonuses is only $7.47. This is a small amount to pay for such an invaluable resource. Plus, you can easily recoup this amount by using the decoratetoday.com discount just once!

Your biggest fan,
Marney K. Makridakis