10 Interior Decorating Tips For Choosing And Using Patterns
_______________________________________________
_______________________________________________
Use the decorating tips below to help select the right wallpaper and fabric patterns that will add drama and texture to your home.
Just look at this beautiful dining room all decked out in fall colors. Notice how three different patterns are used in the room - dining chairs, area rug, and window treatments.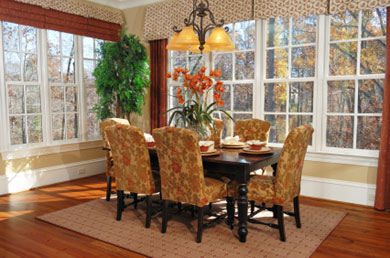 It's true that working with patterns can sometimes be a tricky, but these home interior decorating tips will eliminate the guesswork and make your search easy and fun!
On walls, use small patterns in small rooms, medium patterns in medium rooms and large patterns in large rooms. The reason for this is because small patterns will simply fade away in large rooms and large patterns will overpower small rooms.
When using a combination of patterns on walls, furniture, and furnishings be sure to vary the scale so that the eye will flow naturally to different areas of the room.

For example, if you use a large-size pattern on the wall, follow that with a medium-size pattern on furniture, and a small-sized pattern on accessories. Keep in mind that you want to give the pattern sufficient space to repeat itself.

When using a pattern on home wallpaper, make sure that the background color is light or the room will appear smaller. This is not a real concern if the room is very large.
Whenever you need an extra pattern for a room, a geometric design or stripes will work with just about any other patterns.
Repeat the pattern in three or four places in the room such as in draperies, decorative pillows, area rugs, and furniture. Also, try to spread the pattern evenly around the room.
If you are a home interior decorating beginner, I recommend that you use no more than three repeating patterns in a room. This will help to avoid confusion and still create a beautiful space.
If your pattern exists in objects, such as decorative plates, there will be a much greater impact if you group them together rather than sprinkle them throughout the room.

In addition, the eye is attracted to an odd number of objects in a group. Therefore, start by displaying your collectibles in groups of 3 or 5 and see how it works. If possible, vary the sizes of the objects within the group.

The patterns on your furniture pieces don't have to match, but they should look like they belong together in the same room. When in doubt, make sure that the dominant pattern colors are from the same color family.
Although fabric patterns don't have to match, you should make sure that the materials work well together. For example, you wouldn't want to have a chair dressed in fine silk competing with a sofa that is obviously upholstered in a very casual fabric.
Before you buy large amounts of any patterned decorator fabric, ask for a swatch or only buy a small quantity. Bring it home and see how it works with other patterns, colors, and lighting. Lay it on a table or pin it to a wall. Do whatever it takes to really get a good feel for it.
I hope these interior decorating tips on choosing and using patterns have been helpful.

If you could use some additional decorating tips right away, please click on the recommended links below.
Want more home interior decorating tips? - Books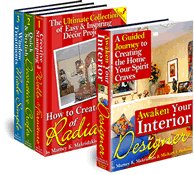 Filled with plenty of interior decorating tips…The Awaken Your Interior Designer! Collection - Looking for a complete decorating solution? This super value collection of 4 eBooks covers it all. In addition to the step-by-step decorating guide, three separate volumes are dedicated to walls, windows and do-it-yourself home decor crafts

Click here for more great ideas to help you with your home decorating! Be sure to share these decorating tips with your online friends.