10 Home Interior Decorating Ideas To Dress Up A Small
Dining Table
______________________________________________
_______________________________________________
Don't tell me that you excluded the dining table from your interior decorating thoughts! You shouldn't because it is just as important as any other piece of furniture in your home.
If you have a small dining table that could use a little pizzazz, try the following interior decorating ideas and watch the short video:
Change The Chairs- If your dining chairs lack character, consider replacing them with something more distinctive or add a slipcover with an interesting pattern.
Add candles/candleholders- A candelabra would make a bold statement. If you decide to use two candleholders, make sure they match the weight of the table.
Add A Tablecloth- Tablecloths come in all kinds of patterns. Find a pattern that matches your decorating style.
Try Some Funky Place Settings- I've seen lots of great ideas, such as placemats that are faux leather, bamboo, and more...just like those on my table below.
Display Flowers In A Vase Or Decorative Container- Place you favorite flowers in a distinctive vase or find an arrangement of silk flowers.




Change Or Refinish The Table Base- If your dining table has a glass top, change or repaint the base to something more interesting. You'd be surprised at the type of things that would make a great base. There are also spray paints that will provide the look of antique, stone, hammered metal and other finishes.
Try A Table With A Glass Top- If your dining area is small, a glass top will open up the room.
Display A Bowl Of Decorative Balls- The balls provide a three dimensional pattern and texture to complement your decor.
Display A Basket Of Fresh Fruit- A basket of fresh fruit or vegetables would add natural color and charm to your dining space.
Keep Clutter Away- Nothing makes a room look smaller and unattractive than clutter. And do you ever notice how good you feel when you've clean up a room and it looks spotless? So keep the space neat and clean.
Just to show you how big a difference dressing up your dining table can make to the room, watch this short video.
Interior Decorating - Dining Table Decorations
I hope these home interior decorating ideas have been helpful. For more information about this topic, check out the resources below.
Increase Your Knowledge About Home Decorating - Books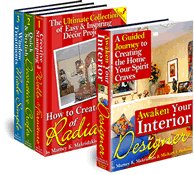 Find interior decorating ideas in...The Awaken Your Interior Designer! Collection - Brought to you by Home Decorating Made Easy, this first of its kind collection of interactive guidebooks is guaranteed to help you decorate any room in your home faster and easier than ever before -- using your existing home decorating accessories and furnishings. Create a beautiful rooms that matches your families lifestyle without spending lots of money. Filled with lots home interior decorating tips and color photos of "REAL" homes.

Click here for more great ideas to help you with your home decorating! And if you know someone who could benefit from the interior decorating ideas, please click on the Facebook and Twitter buttons below.