Decorating With Color - Choosing the Right Color Scheme
__________________________________________
___________________________________________
Decorating with color really adds character to a home. Color can have an affect on our mood and the overall theme of a room.
However, there are different color schemes you need to consider as there are various shades and hues you can choose from. Therefore, decorating with color requires a certain amount of skill and forethought.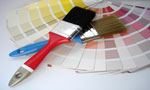 After all, coloring a room isn't only about the color of paint you put on the wall; it also includes the colors of the decorations and furniture you add to it.
Choosing color combinations can be an intimidating task. The reason is because not every color shade compliments one another. For instance, combining peach and magenta does not provide the pleasing affect that the combination peach and sage green would produce.
Hence, you need to be careful when decorating with color. The colors you choose for a room should make you want to spend time in it, not make you run screaming from it.
To make color decisions as easy as possible, focus on one room at a time, and start with your favorite color. Once you've selected your color, you can then use the color wheel to help you combine shades based on one of four basic color schemes.
The following is a breakdown of the four different color schemes you can use when decorating with color to create harmony within a room.
Decorating With Color - Important Points
1. Primary Color Scheme – This scheme involves the primary colors: red, blue and yellow. These are solid strong colors that can make a room pop. These colors suit modern, traditional and country themes, and can be used in pairs or altogether.
2. Secondary Color Scheme – Decorating with color involving the secondary color scheme includes: green, orange and purple. These colors are created by mixing equal amounts of two primary colors (IE. blue/yellow = green). Secondary colors are the perfect compliment to their missing primary color (IE green and red).
Essentially, you can create a wonderful color scheme by using a combination of any three colors within the secondary or primary color scheme. Secondary color schemes are a great choice for oriental, Mediterranean, and other richly colored decor themes.
3. Tertiary Color Scheme – If you are looking to give your room a look of sophistication consider decorating with color that uses a combination of tertiary colors: blue-green, yellow-green, red-orange, red – purple and blue-purple. Tertiary color shades are produced by mixing a primary color with its secondary color.
4. Monochromatic Color Scheme – This is a decorating style that focuses on pairing a single color with white or another neutral tone. A monochromatic color scheme is a safe decorating choice, especially for rooms where you entertain and spend plenty of time.
Despite what color scheme you use, keep in mind that every shade of color is available in a variety of light, medium and dark hues. Don't be afraid to mix and match when decorating with color.
For instance, if you decide to make the two focal colors of your room orange and blue, you can use a nice shade of terracotta combined with shades of light blue and electric blue, to create a lovely Mediterranean look.
If you'd like more ideas on choosing and decorating with color, check out these additional resources.
To return to the home page for more great home decorating ideas. And you can share this page about decorating with color, click on the social buttons below.