Bathroom Painting Ideas, Wall Covering Tips, and Other Creative Ideas
________________________________________________
_________________________________________________
Looking for some great bathroom painting ideas and decorating tips to transform your bathroom? You'll find them below. In addition, I've included a couple of great videos that will provide painting techniques that can help create a space that is truly unique.
But just for fun, I also wanted to share just a few little tips about ways beyond paint that you may want to consider to wake up your bathroom walls.
Without a doubt, the overriding key for any bathroom painting idea or wall covering is to use color. This is especially true for tiny bathrooms where you're limited in the size, number, and types of furnishings that you can use.
Color can make the room look larger or warmer, and soften the effect of functional fittings.
The first step is to paint the walls or paper them with a distinctively patterned wall covering.
For example, painted earth-hues stripes can make a small bathroom appear visually taller.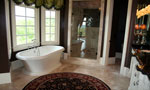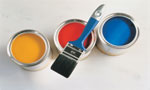 Another fast and easy bathroom painting idea is to stencil a colorful border around the upper edges of the walls.
There is a large selection of unique stencils you can buy that will satisfy all design styles and tastes.
A faux finish will add depth and texture to your walls, and many books and stores can supply you with the tools and instructions you need.
For example, the porcelain crackle technique recreates the look of aged porcelain with its intricate webbing of fine lines.
A weathered crackle glass will impart a comfortable, relaxed style to walls and woodwork. This faux finish creates the look of antiques and rustic homes, and it is easy to achieve.
One of the most versatile bathroom painting ideas is a faux finish technique called dragging or strie. Using subtle color variations, you can create a number of different decorating moods.
In this video, you'll learn how the dragging technique is done. And unlike some of the other faux painting techniques where it would be better to do it with a partner, you can do this one without any additional help.
As you saw, the dragging technique is surprisingly simple. It's not that expensive, either. If you're looking for something unique, I think it's a great way to go.
Sponge painting bathroom walls is yet another wonderful bathroom painting idea. Sponging is a technique favored by many interior design professionals. It turns the room into a dramatic backdrop for fabrics and accessories.
There are other different textures that can be applied such as ragging and rag rolling techniques in which you apply your chosen glaze colors with a twisted rag over a dry base coat.
In this video, you'll learn how ragging is done. Watch how easy it's done.
I think it would be really cool to apply the ragging technique using multiple colors. It would give your walls incredibly dramatic depth and texture. I can almost guarantee that friends and family who see it would be very impressed.
Another faux finish bathroom painting idea is marbling. Interior design professionals have used it for its timeless natural beauty and the elegance and distinction it lends to the room.
On the other hand, if you prefer a wall covering, there is a large selection to choose from. For virtually every bathroom painting idea, you can find a close match in a wall covering.
If, for example, you have no desire to paint geometric shapes on your bathroom wall to give it a contemporary look, then find a wall covering. Or, hang a floral wall covering for a touch of romance.
But don't forget the other important elements that can enliven your bathroom. Lighting is a very important for both mood and for grooming.
If you have a large bathroom, overhead lights should provide ambient lighting with low wattage bulbs or a dimmer switch. Lights around the mirrors will provide task lighting.
If you have a small bathroom, consider using a sconce that emits a warm, soothing glow and yet can be bright enough for makeup application. A large mirror will reflect light around the room and give it more depth.
Finally, make sure to add some personal touches. Use objects, accents, and motifs that reflect your personality. Consider porcelain or marble vases, handcrafted accessories, and photos on the walls. Make guests feel welcome by using luxurious towels made of Egyptian cotton.
BACK to the home page for more great home decorating ideas!If you found the bathroom painting ideas in this article to be helpful, please click on the Facebook or Twitter link below and share it with your friends.