Bedroom Paint Colors Create the Right Mood
_______________________________________
_______________________________________
Bedroom paint colors create the right mood through savvy decorating and wise design.
Using the right color can make your bedroom so warm, so dramatic, that it becomes your interior garden!
You should lean toward bedroom paint colors that feel serene to you. If white springs to mind, make sure you love it enough to create and entire off-white palette throughout the room - not only pale sepia walls, for example, but also ivory curtains, a camel-colored rug; snowy sheets, Battenberg lace pillows.
When selecting bedroom paint colors, choose one for walls, one for the ceiling, and one for trim to give the room contrast and dimension.
White is not the only bedroom paint color, which is suitable, or a restful color for bedrooms. Borrow from nature, which rarely errs.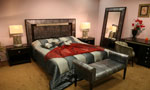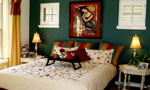 Imagine a bedroom painted in any of the following:
Blue: either a delicate sky shade or cornflower
Pink: any hue from pin-white peony to coral
Grape green or sage green
Chocolate!
As New York designer Craig Raywood puts it, "Anything drawn from nature is a neutral." Indeed, there's only one caveat: in the bedroom avoid colors that make your heart race, like purple and red.
For some more practical tips on how to select bedroom paint colors, check out this video. After watching it, I think you'll find that selecting a nice color is more about you feeling comfortable about using color in your home. Many people fear that they'll get it wrong. But the great thing about paint is that if you just follow a couple of little rules, you'll be okay. Check out the video.
So do you agree with me that once you make a couple of decisions about what will go into the room, choosing the paint color becomes a lot easier.
The video above gave you an idea of a few smart paths that you can head down to select your bedroom color. But there's another step you should perform before you finalize your decision.
In this video, you'll learn some easy techniques for choosing between multiple colors. You could call this the reality check. Watch.
A note on selecting bedroom paint colors: The most practical paint is latex, not oil. It dries fast, cleans up with water, and doesn't offend the environment. Use an eggshell finish on walls, semigloss on woodwork.
Caution: Paint in rich, deep colors, particularly red, is saturated with pigment. When you wash dirt off a wall painted in eggshell latex, the red pigment may lift away, too, leaving a permanent mark. Here are three solutions, none perfect:
Use eggshell latex anyway, because it looks good. Clean lightly with a sponge, which is less abrasive than cloth.
Use semigloss paint. It stands up well to cleaning, but you must have near-perfect walls, as the sheen highlights flaws.
For imperfect walls that require frequent cleaning, especially if you have children, consider oil paint.
Using Contrasting Colors When Selecting Bedroom Paint Colors
Colors are an exhilarating aspect of life, especially when two contrasting colors are used side by side in home decorating. The visual repartee between a bunch of rich purple irises and a yellow wall behind, for instance, is a joy to behold.
Many people shrink from including strong, out-of-the-ordinary color schemes in their bedrooms for fear of getting them wrong.
Using tried and tested harmonies - blues with green, yellows and oranges - naturals or very muted or pale shades seems a much safer solution than experimenting with unexpected combinations of colors. Yet being a bit more daring in your choice of bedroom paint colors brings its own rewards.
In their purest forms, some pairs are easier on the eye than others are; a brilliant scarlet and grass green are so close in tone that they appear to jump about when placed together. Yellow and purple, while direct opposites, are often different in tone - purple is darker than yellow so there is a natural balance.
While there are a number of simple rules to bear in mind when using contrasting colors, let your own instinctive sense of the joy of color be your own guide. Just as in anything else, nobody knows what's right for you as well as you do yourself!
I hope these ideas for bedroom paint colors have been helpful. If you'd like to learn more about this topic, check out out recommended reading below.
Recommended reading - books
Lots of ideas for bedroom paint colors in...The Awaken Your Interior Designer! Collection - Brought to you by Home Decorating Made Easy, this first of its kind collection of interactive guidebooks is filled with lots of original decorating ideas. Create the warm, inviting bedroom of your dreams easier and faster than ever before without spending lots of money.
BACK to the home page for more great home decorating ideas!

---